For Rick, with love
Eric Bazilian Talks About The Band, The Infamous Sony Deal, "Atlantic City," and Largo
---
by Carol Caffin
BandBites, Volume I, No. 4, April 1, 2007.
Copyright © 2007 by Carol Caffin. All Rights Reserved.

---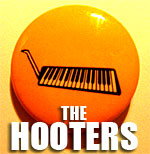 The Hooters reunited in 2001 and will release a new album in 2007. Discography, bios, news and more information available from:
thehooters.net
I was barely out of high school when I first heard the Hooters on record. It was 1981, and the Philadelphia music scene was, for the first time in years, hot again. The song, released on a local indie label called Eighty Percent, was "Fightin' On the Same Side." It wasn't available in chain record stores -- I had to take the bus all the way to Ardmore, to a store for "serious" record collectors called Plastic Fantastic (the suburban-Philly version of Bleecker Bob's) to get it, which made the almost illicit pleasure of the record all the more enjoyable. I remember being as intrigued by the cover of the single -- a bright yellow jacket emblazoned with an image of a melodica -- as I was by the stark and simple, yet utterly compelling, opening notes of the song.
The sounds of the melodica (or, colloquially, a "hooter"), were odd and refreshing at the height of the synthesizer age. The music world had changed drastically in the previous year or so. John Lennon had been killed and the entire industry, still reeling from shock and grief, seemed to be walking on eggshells. Disco had fizzled but refused to die, instead fusing with punk, which subsequently bastardized into New Wave. The Band was nowhere to be found -- except performing occasionally in various solo incarnations at clubs which, as an 18-year-old, I was too young to frequent.
Though recently I had been exposed to two-tone ska via The Specials and the English Beat and liked it a bit, the Hooters, whose music had a definite ska influence, made what was, to my ears, a foreign sound, accessible, in the same way The Band made accordions and mandolins and rural Americana accessible. Though the music of the Hooters bore little resemblance to the earthy virtuosity of The Band, there was something about that melodica that reminded me of The Band. It was so simple, so powerful -- so real. I was hooked.
But then the Hooters committed what I saw as the ultimate mortal sin: they went mainstream. Four years after their debut single, they were opening Live Aid and had a smash hit album (the platinum-selling Nervous Night) on Columbia. That fame -- coupled with the newly slick and polished sound of their music -- was, in my mind, the band's death knell. They became the poster children for my music credo of the time: Commerciality Breeds Contempt.
It would be another five years before my interest in the Hooters would be reignited, when the group found their way into The Band's world -- at The Wall concert in Berlin with Rick, Levon and Garth; on the Sony sessions that would form the basis for Jericho; in live shows with Danko Fjeld Andersen; and with Garth and Levon on the album Largo.
It was wonderful to talk to band member Eric Bazilian recently about his memories of working with The Band and about the Hooters' forthcoming album -- the group's first in 14 years.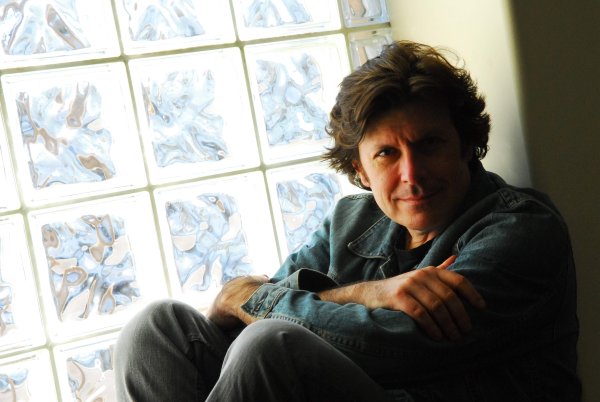 Eric Bazilian, 2006
Photography by Lisa Schaffer
CC: How did you become a musician?
EB: I grew up around music. My mother was a concert pianist and she played all the time at home. I was very influenced by that and I played piano by the time I was six. And my uncle was a folk musician. He taught me my first guitar chords when I was nine. And then, on February 9, 1964, when I was 10, The Beatles played on Ed Sullivan and that was it. I said "That's what I'm gonna do."
CC: Were the Hooters influenced by The Band?
EB: We were individually influenced by The Band, but as far as the actual Hooters sound, in the beginning, when we were trying to do that high-energy ska thing, we weren't. But as time went on -- by the time we got to our second album, One Way Home, we definitely were. There was a conscious attempt to get that earthy sort of feeling, you know, of five guys in a room playing. And even the sonics of using some folky, reedy sounds, like accordions, mandolins, and such.
CC: That was in the early 80s?
EB: That was in the mid-80s, '86, '87. It's something that we all individually had, that had been implanted in us at an early age. It's funny though, I never listened to The Band a lot. I know Rob [Hyman] and [producer/friend] Rick Chertoff had. For me it was more like they were just "there." I saw The Band with Dylan before they were The Band. I was 12 years old and I went to see Dylan at the Academy of Music in Philadelphia in October of 1965. I sat in the second row. I had no idea who those guys were. I assumed that the guitar player was Mike Bloomfield, who had played on the record, and that Al Kooper would be playing organ, although I knew what Al Kooper looked like because I had seen The Blues Project, and it obviously wasn't him.
All I knew was that it was this wild group of amazing musicians. And the bass player, who had this crazy body language, actually sang harmony with Dylan on "One Too Many Mornings," which was unheard of! Who ever heard of somebody trying to harmonize with Bob Dylan?
CC: Well Rick thought in harmonies -- that was his thing, you know?
EB: Yep, exactly. He was brilliant at it. But, um, my taste leaned more toward British stuff. The sound of The Band was more uber-Americana and, early on in my listening days, I was more into the British aesthetic. I guess you'd call it less earthy. But as time went on, into the mid and late 70s, I became much more influenced by and listened seriously to The Band.
Again, when I saw them with Dylan, I didn't know who they were. They had been touring with Bob; I thought that's why they were [later] called The Band. Apparently -- I think Garth wasn't there or something. I remember one of them had left.
CC: It was Levon.
EB: That's right -- it was Levon. They had a different drummer.
CC: Must have been Mickey Jones.
EB: Okay, yeah -- that makes sense. You know it's funny because I have such a clear picture in my mind still of what it looked like. And I remember Robbie Robertson with that Telecaster and just being dazzled. Guitar is my thing, and that's another reason I think I didn't notice The Band so much early on, because I was much more about the guitar thing and Robbie's songs were very understated and tasteful -- on the records, anyway -- and I was much more into the Les Paul/Eric Clapton thing. But then of course live -- I mean, I remember when I saw The Last Waltz and I was just blown away. This guy, he never sounded like this on record!
CC: Well, I think they all had a similar "less is more" aesthetic. They weren't big on solos. I know that was Rick's thing -- kind of filling space. That didn't mean they weren't capable of doing solos! Robbie could really, really play. I think he played the Telecaster early on then later switched to the Strat.
EB: Yep, that's right, although the Strat that he played was customized -- it only had two pickups; it was a Telecaster configuration. But he always sounded like he was playing a Tele, which has sort of a gnarly, bell-like sound to it. It 'rings' in a way that a Strat doesn't.
CC: Rick Chertoff produced "Atlantic City" and some sessions that became part of Jericho. I don't remember the details because that time was sort of like a whirlwind; it kind of got fuzzy in there for a while. They started with Columbia...
EB: Well, I'll tell you what I can to the best of my recollection. I guess it was 1990 when this all went down. We [the Hooters] have a long history with Rick [Chertoff]. We went to college together, Rick and Rob and I, and by that time, we had done the Cyndi Lauper record and three of the Hooters records and a lot of other stuff on the side. And it was always sort of a dream to work with The Band because they were brilliant.
By this time, as you know, Robbie was gone, and they were touring in various configurations and nobody knew what was gonna happen. But Rick came to us one day and said "You'll never guess who got signed to Columbia." And it was The Band -- and Rick was gonna produce it. Obviously we were thinking, "Well, how can we fit into this? They're already a band." They didn't have Robbie Robertson and Richard Manuel had died, so it was like "Okay, cool! Rob's gonna be Richard and I'm gonna be Robbie! [laughs]"
CC: Had you already met them at this point?
EB: We'd already met Levon. We met him a couple of times, but the one that sticks with me is when we did The Wall concert in Berlin in 1990, because it was July 21, my birthday. So we hung out with him -- and Levon was great. I remember him saying [mock Arkansas drawl] "Why don't y'all come up to my house, y'know I got an eight-track there and we can just whip down some music and, hell, if we don't like it, nobody has to hear it! [laughs]"
CC: [laughs] That sounds just like him, too.
EB: So it was October when we had our first meeting. It was at a studio in New York, in Westchester County, I think, owned by one of the guys in Spyro Gyra. We got in there and we had no idea what was gonna happen. It was supposed to be a 12 o'clock meeting. Four o'clock they started coming in.
CC: Oh God -- yep, that's them!
EB: There's Levon, coming in with his dark, dark glasses. Then Rick -- I'd actually already worked with Rick, too, 'cause I met him through Eric [Andersen]. Then Jimmy Weider comes in with his guitar, so I was like "oh, okay, there's another guitar player." Then Stan Szelest comes in and it was "oh, they have another keyboard player, too." And, as it happened, Ralph Schuckett was there as well. Rick Chertoff, not knowing that Stan was coming, thought maybe we would need another keyboard player -- you know, why not? So we're all looking around thinking "what's gonna happen here?"
We start to set up, and we've got three keyboard players and then Garth setting up his wild computer thing -- we were expecting Garth to come in with these amazing old organs, but he said to us [mimics Garth's voice] 'I got my MacIntosh workin' for me now.' And he's sitting there with his headphones on, because when he plays, nobody else sees what he's doing. He's got his own mix, he's just in his own Garth world.
CC: The mad scientist, right?
EB: Absolutely! And then there's me and Jimmy. And, you know, guitar players, they're like lion cubs -- they circle around each other and even do a little dance to check out the other guys. But Jimmy and I hit it off instantly. You can tell with guitar players -- you play that first chord together, and you know if you're gonna click. Some guys you just have an instant rapport with.
CC: Did you actually do any recording that day?
EB: We did three or four tracks. Rick Chertoff had this idea that we were gonna cover "Soul Deep." The thing is, those guys were amazing, but organization was not one of their skills.
CC: No, no, no. That's not their forte and neither is punctuality.
EB: Uh, no [laughs]. So we set up and we did "Soul Deep" first. We figured it's an easy song and we would just get some idea of how it was gonna go. It was one of those things that... it was like grass growing, it just started poppin' out of the ground, a little bit at a time. Everybody just found their place. Everybody just found a part and a way to make it work and we got a really good take pretty quickly. That song was kind of something to break the ice. Levon sang that one and it was interesting because we thought we might get a vocal on the first take, but ultimately, he would overdub his vocals. But we discovered with Levon that he couldn't really play drums unless he was singing and he definitely couldn't sing unless he was playing drums [laughs]...
CC: Which is amazing to me, the fact that he can even do both at the same time, let alone be so incredible at both...
EB: It really is. And it's very enlightening about how he sings, because it's so rhythmic and has such a groove to it, that it's all one thing.
CC: That's a great way to describe it. It's just a continuum.
EB: Yeah. So then we decided to tackle "Atlantic City," which was, I thought, just genius, because when Bruce sings "They blew up the Chicken Man in Philly last night," you see some Italian guy walking down Ninth Street. When Levon sings it, you see some barefooted guy in the backyard feeding a bunch of chickens.
CC: It's interesting you say that because, I was a teenager living in Philly when that actually happened, and my house shook when they blew up the Chicken Man. I remember it a little too vividly. But when The Band sings it, I don't think of that incident. They even made a mob hit sound ethereal! Springsteen's version is great, too -- but it's like they're too different songs.
EB: Honestly, if you heard the rough mix from the first week... I think Rick ended up not finishing that track -- but it was magic. We decided I would play mandolin and Jimmy would play acoustic guitar. Normally, you would try to get those two instruments as isolated as possible because they're very similar and you want to try to get some definition between them. But Jimmy and I sat facing each other in the vocal booth, and I came up with that mandolin line in the beginning, which is like the signature thing.
CC: I love it.
EB: That's what I do -- you just keep playing until you find something that makes it special, makes it stick out. And the sonic thing between Jimmy and me was magic. I think they might have tried to take the acoustic guitar out in the intro. When we cut the track, we weren't hearing Garth at all. We got into this method where we'd get a great performance from everybody and, once we knew we had that, we'd bring up Garth's faders. Boy! Oh my God! He would have these choirs going, these crazy synthesized horn parts -- he would orchestrate the thing while we were running it down. And we couldn't use all of it, but selected bits -- we spent more time editing with Garth than we did playing. We spent days with him. God knows what he's like with Pro Tools now, just being able to move things around [laughs]. He was amazing.
CC: He's definitely in his own world with that stuff, but when he comes out of that world, it's magical.
EB: It really is, yeah. So we did "Atlantic City" and then we did "Blind Willie McTell." I played slide guitar and sax on that. Garth and I did a little horn section together.
CC: You were involved early on, right? And for how long?
EB: Yeah. We did two weeks with those guys -- and I use the term 'with' very loosely, because I mean 'with' them when they showed up. And I think ultimately that's what led to the end of that relationship with Rick [Chertoff] because whatever was going on with those guys -- you know, they're there, they're not there -- it was hard to pin them down. I don't know the particulars of it but it was sad when the thing went south, because I think we would have made an amazing record.
CC: I see what you mean. It's still an amazing record; it definitely has some highlights. Did Rick produce just those tracks?
EB: We cut those two tracks. What remains on the Jericho version, I don't know. When John Stewart [sic] called me, all he mentioned using of mine on "Atlantic City" was the mandolin. I didn't really keep track of it because I had other stuff going on and, generally when I play on records, when I'm done, I'm done.
CC: Do you remember anything else about the project?
EB: The project ended up being a lot of trouble for them.
CC: You mean Columbia?
EB: Yeah. You know, artists, you sign them, they're really excited, they work really hard, and they give you a record. I think with The Band there was just so much other stuff going on with them personally, it was hard to pin them down, hard to get them together. And, of course, Columbia at that time was going through... that was kind of the end of our relationship with Columbia, too.
CC: Isn't that when the whole Sony Music thing happened?
EB: Sony bought them I think in '88. But things got weird over there.
CC: An interesting connection, though. It's like one big circle, right?
EB: Yes it is.
CC: Six degrees of separation, as they say.
EB: Actually, I think it's more like three [laughs].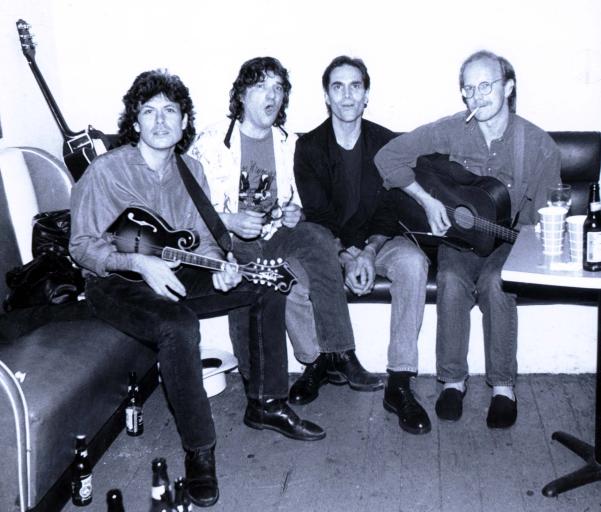 Eric Bazilian with Rick Danko, Eric Andersen and Jonas Fjeld at the Wetlands in New York, early '90s
CC: How did you get hooked up with Rick on his solo shows?
EB: Well, I knew Rick through Eric [Andersen], and I met Eric through Wilie Nile. And through Eric, I got to know Rick and Jonas a bit. I played on Eric's album.
CC: Did you guys see each other after that? Or did you not see them until Largo?
EB: I didn't. Actually, I wasn't even there when Levon came in. I was in Sweden that day. I wasn't there for any of the Garth stuff, either. I kinda distanced myself from that project. I wasn't deeply involved in that -- I mean, I was involved in writing most of the music, but it wasn't where my head was at.
CC: You mean you were involved in other things?
EB: Yeah, I was doing other stuff and, I mean, it was supposed to be a Hooters album and it turned into that and my head was elsewhere at the time.
CC: How did the guys from The Band get involved with Largo?
EB: Well, when the idea came to have a cast of thousands on the record, they were obvious choices, being artists that we admired and again, having that uber-Americana thing which is what the album is about.
CC: Rick's not on that record. Was he asked?
EB: I really don't know. It probably didn't come to that because we wanted Levon for a very specific thing, which was Levon's voice, that very distinctive voice. Likewise Garth, we wanted him for a very specific thing.
CC: Any other thoughts on working with The Band?
EB: They were great musicians and a lot of fun to hang with -- good hang, good musicians.
CC: What are you guys working on now?
EB: We are finishing up the first Hooters album in 14 years. We've been trying to make a record since 1995. The one in '95 turned into Largo. At that point, the band had been together 15 years. Rob [Hyman] and I had been playing together for 24 years. It was just time for a break. So, we would get together periodically and try to make something happen but, for whatever reason, we couldn't finish anything, so we went off and did our separate things, which was a lot of fun. It wasn't until about a year ago that the song thing caught fire and then, all of a sudden, it was "Here's a song!" and "Here's a song! This one's really good!" In September, we started cutting this record and we're really excited and can't wait to go out and start performing these songs.
CC: Now that the album's about to be finished, do you have a name for it?
EB: Actually, we don't [laughs]. We've gone through a bunch of them. Hopefully, we'll have a name by the time it's released.
CC: See, The Band really have influenced you, haven't they [laughs]?
EB: [Laughs] Yeah, I guess they really have!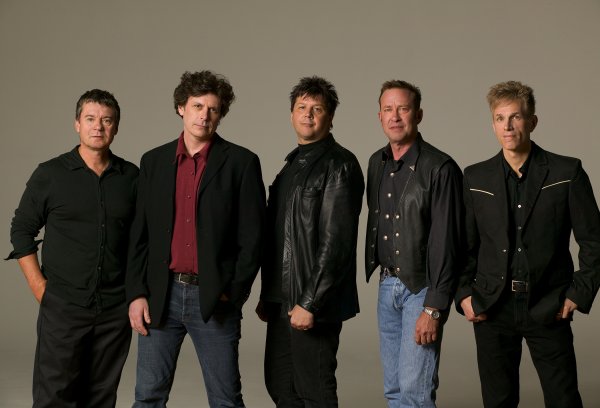 The Hooters, 2006

---
[History] [Members] [Library] [Discography] [Videography] [Filmography] [Pictures] [Audio Files] [Video Clips] [Tape Archive] [Concerts] [Related Artists] [Merchandise] [Guestbook] [Chat Room] [Search] [What's New?] [Main Page]
Webmaster