Music from Big Pink's Neighborhood
---
by Matthew Lewis
This story is from the August 2000 issue of the Singapore-based BigO Magazine. Reprinted with permission from the author.
---
A lot of good music was made in the small town of Woodstock, New York, between about 1967 and 1975 - most famously by Bob Dylan and the Band, but also by a host of lesser-known artists. One problem with recalling the so-called "Woodstock golden era" is that the name itself conjures up two, somewhat irrelevant connotations: the Woodstock music festival of 1969 (which actually took place in Bethel, N.Y., about 60 miles away) and the related Joni Mitchell song that was a hit for Crosby, Stills, Nash & Young.

But to those who care to dig a bit deeper into the real, early-1970s sound of the Catskill Mountains, a somewhat forgotten album by a group called Borderline is akin to a precious archaeological find. Recorded in 1972 and released in 1973, "Sweet Dreams and Quiet Desires" is both a very good album, and an historically significant one, thanks to an all-star cast that includes the Band's Richard Manuel and Garth Hudson. Though out of print for many years, the record retained a cult following in the United States, Europe and Japan. Happily, Japan's Toshiba-EMI has finally seen fit to reissue it on CD.

Borderline was a trio comprised of three singer/guitarists: brothers David and Jon Gershen, and Jim Rooney. The Gershen brothers remain active in music today, and Rooney went on to produce the likes of Nanci Griffith and John Prine. "Sweet Dreams," their first and only album (although a second, ill-fated 1973 album was also recorded) is a timeless and earthy blend of folk, rock, country and bluegrass - with even a tip of the hat to jazz. Its 11 songs - nine originals and two folk standards - still stand tall against anything today's alt.country or roots-Americana movements can throw at them.

In addition to Manuel (who plays on three tracks) and Hudson (one track), the musicians include drummer Billy Mundi (known for his work with Frank Zappa), pedal steel player Ben Keith (a member of Neil Young's Stray Gators), sax superstar David Sanborn, pianist John Simon (producer of the Band's famous first two albums), and fiddle virtuosos Vassar Clements and Ken Kosek. The album also includes a brief, written endorsement (reprinted in the CD booklet) by a fellow Woodstock denizen named Van Morrison.

Jon Gershen, who today lives in New Jersey, recalls Woodstock's golden era as an unusually diverse and vibrant scene. "Not only were Dylan and the Band around, but there were many others including Paul Butterfield, Van Morrison, Tim Hardin, Todd Rundgren, Bobby Charles, Maria Muldaur, John Hall, and many, many others," he said. "Today we think of the Band as famous musicians, but when I first came to Woodstock in 1969, they were just driving beat-up old cars and doing their laundry at the coin laundromat," Gershen said, pointing out that the group's first, 1968 album ("Music from Big Pink") was not an immediate commercial success.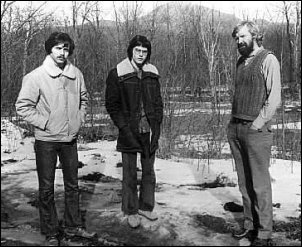 Borderline, from left, David Gershen, Jon Gershen, and Jim Rooney (photo by Stanley Knap)

Gershen thinks "Sweet Dreams" won over listeners in part because it "worked" as a self-contained album with no filler. "Quite simply, it was a collection of solid songs that flowed one into the next with a steady pace," he said. It also had an attractive "risk-taking" quality, he said. "You have to remember that back in '72, the idea of putting a guy who played bluegrass together with an electric blues/jazz guitar player and a Nashville style singer was a pretty revolutionary concept," he said. "People knew we were out there on a musical ledge and found it intriguing." In its day, the album was a critical success and sold respectably - at least, for a first album by an unknown group.

With hindsight, "Sweet Dreams" has additional interest because it showcases rare studio work by members of the Band, who were then in an extended "hibernation" phase between their 1971 "Cahoots" album and their 1975 "comeback" album, "Northern Lights/Southern Cross." Oddly, Manuel and Hudson appear under the pseudonyms Dick Handle and Campo Malaqua - due to a quirk of then-manager Albert Grossman, who did not want to publicize his charges' session-work.

Manuel, who committed suicide at 42 in 1986, played on the album's first single, the irresistibly funky "Don't Know Where I'm Going." "Even though I knew that members of the Band no longer did much session work, I kept thinking it would be wonderful if Richard Manuel or Garth Hudson would work with us," Gershen said. "So Jim (Rooney) suggested that we ask - the worst they could do was say no." To Borderline's surprise, both Manuel and Hudson agreed to help. It was interesting to work with Manuel, who was dogged by personal demons and a reputation for erratic behavior. In truth, he could not have been nicer or more professional, Gershen said. Though a superb singer, Manuel the keyboardist was a less-confident character who felt inhibited by Garth Hudson's technical genius. "He (Manuel) even went so far as to apologize to us for not being such a good musician," Gershen said, amazed. "Really, Richard was an unbelievably intuitive and talented player in his own right. He would find the soul of a song instantly, and enhance it with his unique style."

The album's best, most ambitious song is the Jon Gershen-penned "Dragonfly," a jazzy ballad featuring a dramatic Sanborn sax solo and Hudson's swirling Hammond B-3 organ. If some of the album's lead vocals may have less "character" than what we're used to with Dylan, the Band and Morrison, those artists may represent an impossibly high gold standard or unfair comparison benchmark. All in all, "Sweet Dreams" is a surprisingly strong and satisfying work. One is left thanking the Japanese for their fine taste in reissues, and also hoping that Borderline's second, 1973 album - which never came out due to a problem with the United Artists label - will eventually be released. If some altruistic record company (pardon the paradox) would reissue other "great lost Woodstock albums" - such as Happy and Artie Traum's self-titled 1969 album for Capitol, or John Simon's 1970 album for Warner Brothers - that would indeed be a sweet dream worthy of many quiet desires.

-- with thanks to Kenta Hagiwara's liner notes for the Japanese reissue of Borderline's "Sweet Dreams and Quiet Desires."
---
[History] [Members] [Library] [Discography] [Videography] [Filmography] [Pictures] [Audio Files] [Video Clips] [Tape Archive] [Concerts] [Related Artists] [Merchandise] [Guestbook] [Chat Room] [Search] [What's New?] [Main Page]
Webmaster