Levon Helm's Rock Lead to a Role
Loretta's Coal Miner Daddy in the Movie
---
by Cutler Durkee
From People's Magazine, 1980. The text is copyrighted, please do not copy or redistribute.
---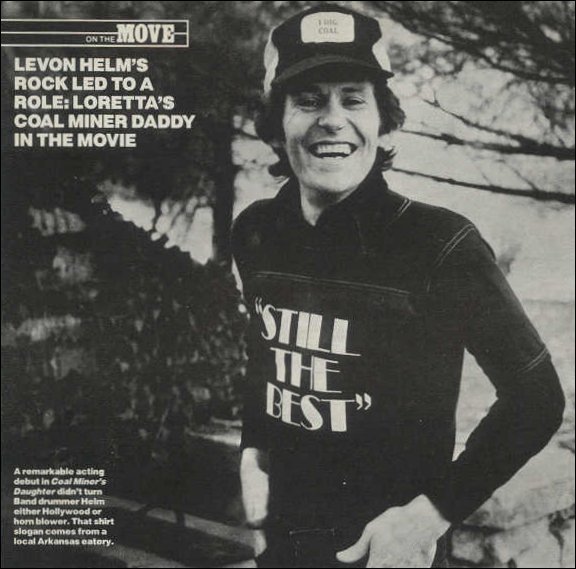 Plugging in with Dylan made history; respect from Spacek made his day.
"To tell the truth, someimes I fell luckier than the town dog," says Levon Helm, and well he might. As drummer for the pioneering '60s rock group The Band, he backed Bob Dylan, played Woodstock and sang lead on classics like "Rag Mama Rag," "Up on Cripple Creek" and "The Night They Drove Old Dixie Down." Now, three and a half years after the group's epic Last Waltz farewell, Helm has won a whole new following player the father of country queen Loretta Lynn in her movie bio, Coal Miner's Daughter. Sissy Spacek, brilliant actress in the title role, flatteringly found Levon "strong enough to be sensitive." Loretta herself decided he didn't need coaching because "he looked so much like Daddy, I figured he just knew". But don't expect Helm, 39, to don a pair of Foster Grants, leave his modest home in Springdale, Ark. and head for Hollywood. He can't get away from his daily Ozark routine, hammock testing, barbecuing and maintaining his status as "K mart's best-dressed man."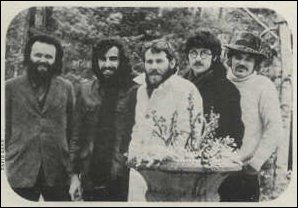 The Band (from left Garth Hudson, Richard Manuel, Helm, Robbie Robertson and Rick Danko in 1969) was, arguably, the Woodstock era's best. They took the name after Capitol nixed their first pick: the Crackers.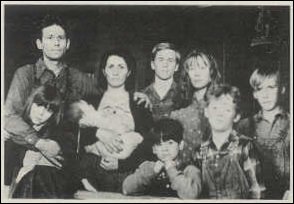 On the set Helm (left) "was brought right up off the ground" by praise from co-star Spacek, third from right. It was mutual. "When Sissy calls you 'Daddy'," he reports, "you get to bellevin' it."

"Yep, it's real hectic," deadpans the easygoing Helm. He is refreshingly unambitous about acting. "You can't just laugh your way through it, but if you can entertain people by singin' or playin' an instrument, you can modulate yourself into the film situation." It was his actor pal Tommy Lee Jones, already cast as Loretta's husband, who suggested Helm for the part. "It was fun," sums up Levon, "nothing strenuous like memorizing the Gettysburg Address. But the thought of making movies doesn't keep me up nights."

Not much does, except maybe work on American Son, his second LP since his well-received RCO ("for 'Our Company'") All-Stars solo project in 1977. Otherwise Helm lives a good-ol'-boy life with his love of six years, Sandy Dodd. "I don't think I'm a millionaire, but," he concedes, "I'm comfortable."

A daughter, Amy, 9, and a stepson, Ezra Titus, 12, from a brief marriage visit summers. Generally about that time of the year Levon and Sandy head up to New York to eat sushi, oversee the music studio he owns near Woodstock and casually check up on the more citified world.

"When you hear "Cripple Creek" on Muzak," observes Helm, you know you're getting older." He has also found that some of his rustic boyhood pastimes have changed over the years. "When I was younger," he recalls fondly, "I used to drive up to a bunch of turkeys, roll down the window and say something. They'd all gobble back at once. If you were stoned, it was hi-larious."

Helm's early - and straighter - appreciation of country life set him up just right for his acting debut. The son of a Marvell, Ark, cotton farmer, Helm says that "my dad was like Loretta's dad, raising a family on not quite enough and enjoying it. He didn't whine about his lot. You learned to play the hand you were dealt." Levon also realized early, "The only way to get off that stinking tractor was to get on that guitar." He later switched to drums, and after high school took off to tour Canada with rockabilly singer Ronnie Hawkins. Helm and Hawkins' Canadian musicans (the Hawks) split from their leader and spent years playing bars "where you sit down, and the next thing you're slam-assin' around because you got to protect your honor or something. My neck can get as red as anybody's, but when you're 5'9" and 140 pounds, you can't jump on just anybody you see."

One scrawny Yankee who jumped on them, incredibly enough, was Bob Dylan when he made his move from acoustic folk to electric rock in 1965. On the advice of a friend, Dylan asked the Hawks to back him on a tour. Three years and a world tour later, the group, redubbed The Band, released Music from Big Pink. It was followed in 1969 by one of the finest rock albums of all time, The Band. Two years after a triumphal 1974 jaunt with Dylan, the group - amid signs of fading popularity in the early Disco Era - put on its star-studded final concert in San Francisco's WInterland on Thanksgiving night. Martin Scorsese's concert film, The Last Waltz, has been hailed as best-of-breed and helped launch a movie career for its co-producer, Robbie Robertson, The Band's brilliant guitarist/ writer. (Robertson co-produced and starts with Gary Busy in Carny, which opens this month.)

Helm remains "friends" with his ex-cronies. "We don't pen-pal or nothing," but he doesn't rule out Banding together again. "I imagine sometime in the future there will be a causee to celebrate," he says, "and we know how." Levon's own ambition is to mature gracefully, like his heroes Bill Monroe or Ray Charles. "The music businees don't owe me a damn old-age pension or anything." So he pledges, "I'll be trying to play when I'm 65."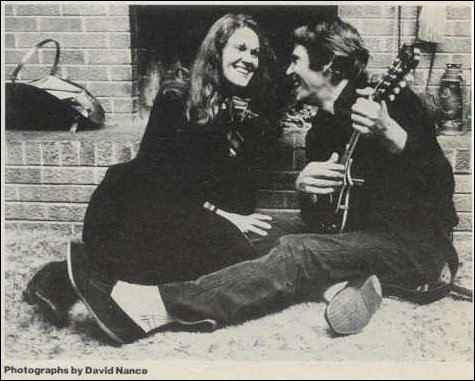 What's kept them together six years? Figures housemate Sandy: "I make good corn bread and vichyssoise."
---
[History] [Members] [Library] [Discography] [Videography] [Filmography] [Pictures] [Audio Files] [Video Clips] [Tape Archive] [Concerts] [Related Artists] [Merchandise] [Guestbook] [Chat Room] [Search] [What's New?] [Main Page]
Webmaster