Rick Danko - Too Long In Exile
---
by Matthew Lewis
This story ran in the May 1997 issue of the Singapore-based BigO Magazine. Reprinted with permission from the author.
---
With his soul-tinged everyman's voice and loping bass style, Rick Danko has always been of the heart of The Band's distinctive sound. But throughout the '80s and early '90s, a hard rain fell on fans of Danko and The Band. After making some of the greatest rock records in history, and releasing a fine, self-titled solo album in 1978, Danko inexplicably took a 1 5-year vacation from making records.
He resurfaced in 1991, on a critically acclaimed collaboration with Norway's Jonas Fjeld and Greenwich Village folk scene veteran Eric Andersen. Danko/ Fjeld/ Andersen's second album, Ridin' On The Blinds, was released on Rykodisc in February. It continues the trio's unique exploration of American roots musis, seasoned with exotic Norwegian folk instruments. One of the new album's highlights is Danko's poignant, acoustic rendition of Twilight, a 1975 Band throwaway which emerges here as a truly great song.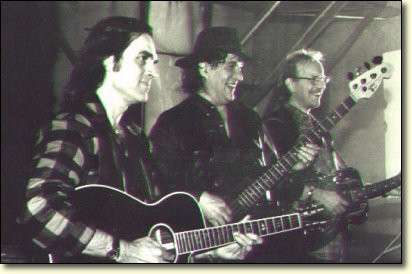 From left: Eric Andersen, Rick Danko and Jonas Fjeld.
With a slew of recording and concert projects in the pipeline, Danko, 53, is more visible today than at any lime since The Last Waltz, director Martin Scorsese's documentary of The Band's 1976 'farewell" concert.
Danko will tour Japan in April and May, with and without Fjeld and Andersen, and is also keeping busy with The Band, which has released two albums in the last three yours (minus original singer/pianist Richard Manuel, who committed suicide in 1986, and songwriter/guitarist Robbie Robertson). The Band will start work on a new album later this year, which it hopes to release in early 1998.
In March, Matthew Lewis caught up with Rick for a wide-ranging interview. Among other revelations, he said that The Band is negotiating with Capitol Records about reissuing the group's classic 1969 album, simply called The Band or the brown album, possibly supplemented by rare bonus tracks.
From his home in Woodstock, New York, the amiable Canadian also expressed his desire to make an album with Keith Richards, explained why he took a long hiatus from recirding, and offered some less-than-flattering observations on old Bandmate Robbie Robertson.
MATTHEW LEWIS: Rick, on the new album, I really like your version of Twilight. Why did you pick that particular old Robbie Robertson song to record?
RICK DANKO: I hate to say this, but it's as much of a Rick Danko song as it is a Robbie Robertson song. I just forgot to seek (credit). Robbie was very tight with sharing those responsibilities. That's why he's where he is, and that's why we are where we are, to make a long story short... He'll say he did it all, if you give him the opportunity,
MATTHEW: Are there a lot of old Band songs that you feel you should have been credited on?
RICK: I feel that way about the whole band. Especially the music. A lot of them stories, Levon (Helm, Band singer and drummer) told a lof of great stories that we worked in the lyrics for songs. But that's behind us. I feel much the way Mike Love (of the Beach Boys) feels. (Ed: Love sued bandmate Brian Wilson for denying him songwriting credits.) Maybe I'll have to end up hiring his lawyer (laughs).
MATTHEW: What's your relationship with Robbie these days?
RICK: I don't really speak to him or see him that much. He's hanging out in that Armani crowd, I guess, wearing them Armani suits.
MATTHEW: It was nice to see that Capitol Records not long ago released The Band's 1973 Watkins Glen concert.
RICK: It's funny, because when we did the Watkins Glen show, and listened to the tapes at the time, we didn't really like it. But as the time went by, and when they sent me the tape that they had remastered, I liked it a lot more than I did years ago. It's amazing how the mind works. I'm sure there's more unreleased stuff... not a lot, but if there's something out there that's good, I'm sure that we'll eventually bring it to the public.
MATTHEW: Elvis Costello once said that you are one of his favorite singers. Who are your main influence's as a singer?
RICK: Oh God, I've been influenced by a lot of people. Hank Williams, Otis Redding, Sam Cooke, Kitty Wells, Patsy Cline - don't want to forgot the ladies - Muddy Waters, of course. Just the real people. I'm sure they've been a big influence on all of us.
MATTHEW: Rick, you've never been a prolific songwriter, yet you've co-written some great songs, like Bessie Smith (with Robertson) and This Wheel's On Fire (with Bob Dylan). Why did you never actively promote yourself as a songwriter?
RICK; Songwriters always seemed to be such troubled people, and I never wanted to take myself quite that serious. Because boy, there's a lof of great songwriters, but their lives are so ****ed. I just wanted to have an easier kind of life, if that makes any kind of sense. (But) I've been very lucky with the songs that I have co-written. Like Wheel's On Fire is the theme song on that (British TV series) Absolutely Fabulous. It's funny, that song has been more magic than (anything), and it just keeps coming back. I noticed the royalties from that started in England, and now it's just gone to the United States. It's incredible. I'd love to have all the songs I've co-written cast as theme songs for television. Boy, it sure is on easy way to get them cheques from God.
MATTHEW: Do you keep in touch with Bob Dylan?
RICK: As much as I guess anybody does. We cross paths, you never know. The last lime I saw Bob I was in Norway. I had lunch with him, a year and a half ago. He's a friend for life.
MATTHEW: Rick, your 1978 solo album was excellent. (Produced by Rob Fraboni, it featured an all-star cast including the other members of The Band, Eric Clapton, Ron Wood and Doug Sahm, among others.) I still think it's the best solo album ever done by a Band member.
RICK: Well, thank you very much. I appreciate that. I hadn't heard the record in a long time. Rob Fraboni, he's been hanging out with Keith Richards a lot. I would love to make a rock 'n' roll record with Keith Richards, a duo kind of thing. We (Fraboni) got together and we listened to it (recently). It sounded pretty good. But I told him the next time I make a solo record, I'd like to feature myself. (laughs) But that was a lot of fun, and I think I collected some pretty good performances.
MATTHEW: But why the heck did you never follow up that album?
RICK: Arista Records was kind of new at the time. I remember the record came out in '78, but the timing of it - it was receiving all this radio play, but Clive (Davis, Arista boss) didn't have it in the stores till six months after the fact. By that time I was kind of disillusioned, and I guess I could afford to have that kind of attitude at the time. I just really got turned off to the whole corporate structure thing, which was kind of a bad attitude on my part, now that I think back. But that's behind me now. I obviously don't feel that way now.
MATTHEW: You sort of dropped out of sight until you turned up an that live Ringo Starr album in 1990, singing Buddy Holly's Raining In My Heart.
RICK: That's kind of why I picked that tune. I figured that would give me a little mileage. It was an easy thing for me to do, and I thought people could relate to that, raining in my heart. I was very disillusioned with the corporate structure (of the music industry), to the (extent) that I almost felt like an outlaw, which is a silly attitude to have. But I've outgrown it, I've grown up a lot, I've cleaned my life up a whole lot... I hope these next 50 years will be as graceful us my teen years. (laughs) (Danko mentions that he hopes to record a live album during his upcoming tour of Japan.)
MATTHEW: How soon will we hear your second solo album?
RICK: I'm in no hurry. I started three or four years ago, making my second solo album in Chicago. I cut four or five tracks. But then I got so busy with The Band, and Jonas and Eric, that we kind of put it back on the shelf.
MATTHEW: How do you like the new line-up in The Band (with original members Danko, Helm and Garth Hudson augmented by Richard Bell, Randy Ciarlante and Jim Weider)?
RICK: Oh man, I just think it's the cat's meow. I mean, Jimmy Weider, Richard Bell, Randy Ciarlante - you couldn't have three better guys to play with. We've been together for going on 10 years. It's just very special. After all this work that we've done together in the past three years, it's come such a long way on its own merit.
MATTHEW: What's your reaction to some people who wish Robbie Robertson would rejoin The Band?
RICK: Everybody wishes that. I think Robbie even wishes that. People try to throw money at us... I think the last report was US$5 million. But money isn't the object anymore. We're not looking for a job. Everybody's pretty much doing what they want to be doing.
MATTHEW: So you feel The Band is still The Band with or without Robbie?
RICK; Absolutely. Not one monkey can stop the show. Robbie chose to do what he chose to do, and more power to him. I think he's regretted some of those movements, but that's not my problem... You know, you can't replace Richard Manuel, and you can't replace Robbie Robertson. No one was looking to do that. But that's not what makes a band anyway. I mean, the band is The Band.
MATTHEW: Do you feel like your career is getting kind of a second wind these days?
RICK: I don't really believe in second winds. We've all continued to live our lives and raise our families. Sometimes people pay attention, and sometimes people don't... I'm just glad that I never really had to work for a living. I got to go into semi-retirement at a very early age.
---
[History] [Members] [Library] [Discography] [Videography] [Filmography] [Pictures] [Audio Files] [Video Clips] [Tape Archive] [Concerts] [Related Artists] [Merchandise] [Guestbook] [Chat Room] [Search] [What's New?] [Main Page]
Webmaster