Up on Cripple Creek
This article was originally drafted in 1996. I posted a query about the origin of Cripple Creek on the Band Guestbook, which brought valuable insights from David Powell, Charlie Young, Pete Rivard, Bones and Matt K. As a result this became a compilation of ideas and went onto the Band site in 1999. This drew more immediate response, then a trickle over the ensuing years. It's time for Version 3 to incorporate the later comments, and some new ones that arrived when I announced the revision. Particular thanks to SADavid for his research on the earlier songs. I'll repeat my normal warning: of course this is all over-interpretation. Some of it may be right, much will be news to the composer.

Up on Cripple Creek
Written by Robbie Robertson
From "The Band" (1969)


This was The Band's first (and only) American Top Thirty single, reaching #25 in November 1969. Levon Helm suggests, erroneously I think, that it is the song the Band are most associated with. There's no question that the best known song is The Weight even though The Band's version didn't place so well in the US charts. Their highest UK placing was with Rag Mama Rag, but no one would claim it as their best known song. But Up On Cripple Creek is second only to The Weight in the number of recorded versions.
The Music
Levon Helm (quoted by Barney Hoskyns)
It took Cripple Creek a long time to seep into us. It was just like it had to simmer with everybody for a while. We cut it two or three times but nobody really liked it. It wasn't quite enough fun. But we fooled around with it, and finally one night we just got hold of it, doubled up a couple of chorus parts and harmony parts and that was it. 1
Musically, Garth fooled everyone again. While listeners were fascinated by the apparent twang of a Jew's Harp (which Levon more accurately calls by its original name, Jaw Harp) resonating through the record, it was actually Garth playing a Hohner D6 clavinette through a Vox guitar wah-wah pedal.
Garth Hudson
It was easy to do. We'd tried it at home... not for that particular song. It sounded like a bow, a bowed harp.2
Max Weinberg includes the song on his Rhino CD collection of outstanding drum tracks:
Max Weinberg
Levon's beat is so soulful and right; the fact that he was singing while he played goes to show his true artistic achievement. Drummers have always loved the sound of Levon's drums and here they're fat and deep, his snare splitting the music in half. 3
Rob Bowman adds:
Rob Bowman
The astute listener will note a heavy emphasis on the bottom end; Rick's bass and Levon's bass drum are very resonant in the mix. 4
In the Classic Albums TV programme, Robbie Robertson demonstrated the components from the original tapes. Bass and drums on one track, guitar and piano on another, clavinette and organ on a third. Garth was playing it in real time, not overdubbing. Robbie mentions him changing from one keyboard to the other, and being quick on the draw. When he switches from clavinette to organ, Robbie pulls up the organ volume and shows that it's a merry-go-round sound, like a carnival. It was played as an ensemble live, because Robbie points out the vocal bleeding onto the rhythm track. Don Was praises the use of a clavinette as a funk instrument, noting that it predates Stevie Wonder's Superstition by several years. The arrangement was perfect, and they stuck to the instrumental components through many live versions.
The origins of 'Cripple Creek'
In the first version of this article, I started out speculating on the various places called Cripple Creek. As more and more references rolled in, it became apparent that the primary reference was the folk song, Cripple Creek. The arguments about the location of this or that Cripple Creek can still be argued over the folk song, but we'll come to that later.
David Powell
There's an old American folk / bluegrass song called "Cripple Creek." There are so many different versions with various verses, but the basic premise of the song is that the place called Cripple Creek is paradise on earth. The chorus goes: "Goin' up Cripple Creek, goin' in a run / Goin' up Cripple Creek, gonna have some fun." The water there runs cool, deep & wide. It's a place where you can meet a sweet young girl with eyes of blue, who'll make your gun shoot straight & true. You get the picture. 5
There are versions of this song by many artists with wide lyric variations, including Charlie Poole and The North Carolina Ramblers, Bill Monroe, Buffy Sainte-Marie, The Stanley Brothers, Etta Baker, Pete Seeger, Leo Kottke and even Scottish comedian Billy Connolly with the Humblebums. Note that the Band have covered a song by Charlie Poole (If I Lose)6 which The Stanley Brothers had also recorded.
To further the connection between Cripple Creek and Up On Cripple Creek, Buffy Sainte Marie had this to say on the older song:
Buffy Ste Marie
(Cripple Creek) is a traditional song known to fiddle players, banjo and guitar players, and me: a mouthbow player. I make mouthbows. It's the world's oldest stringed instrument, based on a hunting bow, and found all over the world. Different from a Jew's harp, the flexible stick part of a mouthbow can be bent while playing, which slackens the string. The changing melody is made by directing the harmonics off the string into your mouth.7
SADavid
I think it's interesting that Buffy Sainte-Marie prefaces the lyrics with a discussion of the mouthbow - what Garth calls a "bowed harp" in the Classic Albums discussion of his "clavinet through wah-wah pedal" technique.
These are the lyrics in the Buffy Sainte Marie version:
Hey, I got a girl at the head of the creek
Goin up to see her about two times a week
Kiss her on the mouth, sweet as any wine
Wrap herself around me like a sweet potato vine

Goin up Cripple Creek, goin on a run
Goin up Cripple Creek to have a little fun
Goin up Cripple Creek, goin in a whirl
Goin up Cripple Creek to see my little girl

Now the girls up Cripple Creek about half-grown
Jump on a boy like a dog on a bone
Roll my britches up to my knees
Wade ol' Cripple Creek whenever I please

chorus

Now, Cripple Creek's wide and Cripple Creek's deep
Wade old Cripple Creek before I sleep
Hills are steep and the roads are muddy
and I'm so dizzy* that I can't stand steady I'm...


chorus

(* drunk in other versions)
SADavid
The folk song is all about young men bragging to other young men about access to the timeless diversions of getting laid and getting drunk - the Band's song brings it into the 20th century with a little added particularity in the details. I don't think there's any question but that the new song takes off from the old song 8
The song, like so many folk classics, is salacious. Alternate titles such as Goin' Up Brushy Fork and Goin' Down Shootin' Creek give a clue. A creek is a place where water flows. A creek is also a cleft between the buttocks according to the Shorter Oxford Dictionary, but I don't think it's worth examining the Brokeback Mountain analogy. It does give a further interpretation of what going Up Cripple Creek... might mean.
There are various meanings of cripple. In Dorset, where I live, there is a village called Cripplestyle and in London, UK, you can find Cripplegate. Both meant a place where you had to 'bend down' (or 'cripple') to get through. The use for someone physically disabled derives from this bending action. A cripple is also a low area of swampy ground with rough thickets, the sort of area where you might find a creek. If we're thinking low, swampy ground it might take Cripple Creek to the Lake Charles area. Whatever cripple creek is not a unique name. There are at least six in North America, and probably many more.
The Band would have been familiar with the Charlie Poole and Stanley Brothers versions of Cripple Creek at least, but there's a specific link to another version: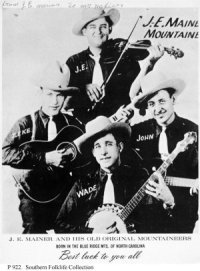 J.E.Mainer Mountaineers
Charlie Young
I just bought a CD called 20 Old-Time Favorites by J.E. Mainer and the Mountaineers which includes an interesting version of the bluegrass standard called Cripple Creek. I thought I remembered an old reference to Mainer in a Robbie Robertson quote and I finally found it. From the TIME cover story (January 12, 1970), Robbie points out the musical range of reference in The Band- see below.
Robbie Robertson
There are five guys involved and everybody has a little different thing. Like one guy in the group would remember very impressive horn lines by Cannonball Adderly. Somebody else would remember a singing harmony that J.E. Mainer and his Mountaineers did years ago.9
Drunkard's Dream
There is another related folk / bluegrass song which joins Cripple Creek as an inspiration.
Charlie Young
The traditional roots of "Up On Cripple Creek" are made more evident by the chorus hook, "a drunkard's dream if I ever did see one." That line, coupled with Garth's clavinette, grabbed my ear the first time I heard the song on a crummy AM car radio. "Drunkard's Dream" is another old American song familiar in bluegrass circles, but there's also a Cajun variation called "Reve Du Saoulard."10
SADavid
The Band song also references the old song "Drunkard's Dream," not just in the repetition of the title but also echoing the line, "I pressed her to my throbbing heart."
The way JRR's lyric uses "Drunkard's Dream" is interesting. Googling brings up a bunch of versions of the song, and also a poem and a short story with the same title. (The story is one by Sheridan Le Fanu, with a Le Fanu patent spooky ending.) In all of these, the dream is a literal dream, and one which demonstrates to the drunkard the error of his ways and puts him on the Temperance wagon. In JRR's use, "dream" equates with "ideal" and stands the original moral-of-the-story on its head. I think this is partly just a little clever irony for the fun of it, but it also serves in a way to point up the obtuseness of the narrator, who is selfish but completely un-self-conscious.11
The cheerful but unreconstructed attitude of the song's narrator is discussed (tongue in cheek) in the appendix article Is Bessie a co-dependant moron, or what? It's good to think that there was deliberate irony. The choice of singer, Levon, is the same as on Jemima Surrender, assigning Levon the picaresque role.
Location, location, location
"There are three important considerations in buying a house. They are location, location and location."
(An unknown real estate agent)
In the first version of this article, a lot of space was spent trying to trace which of the various Cripple Creeks might have been in Robbie Robertson's mind. I'm convinced that the song is the primary source, which doesn't close the question of which ones he might have been aware of. Interestingly, a website reference on the older song Cripple Creek quickly enters the same debate with slightly surprising results.
The prime candidates are Cripple Creek, Colorado and Cripple Creek, Virginia. When the 90s Band played the Telluride Festival in Colorado the song got the expected reception, just like Bruce Springsteen mentioning Philadelphia, or Paul Simon mentioning New York and London in the appropriate venues. That's what performers do with city references. It doesn't mean that the song is about Colorado.
Colorado...
For years I thought of the Colorado gold rush town as the location, probably because it fits the Western image I got from songs like The Weight.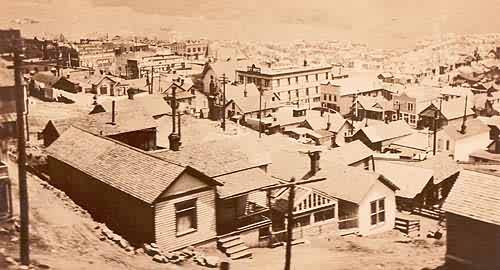 Cripple Creek, Colorado in the 19th century
This Cripple Creek in Colorado was the site of the largest gold strike ever in the lower 48 states of the USA, when people flooded into the Pikes Peak area in the Rocky Mountains of Colorado looking for gold. W.S. Stratton discovered a new ore, Telluride, in the 1890s and opened up large scale lode-mining. From having a population of 50,000, Cripple Creek fell to 680 people in 1980 and is about halfway between a ghost town and a tourist attraction. Present-day casinos have revived the economy with a less physically arduous way of striking it rich. It's also the site of one of the few domestic terrorist atrocities in the USA, when a bomb at the rail depot killed thirteen non-union miners during the 1903-1904 Colorado labor wars. Military rule was established and 238 miners were banished - marched off to New Mexico and left there. This is all incidental, because I don't think that's what the song's about!
Virginia...

Cripple Creek, Virginia
Charlie Young
There's a Cripple Creek in rural, Appalachian Southwest Virginia, not far from the home of one of the oldest traditional mountain music festivals in the US (the Galax Old-Time Fiddler's Convention). I'm not sure of the origin of the song David mentioned, but the region I'm talking about brought us names such as the Carter Family and Doc Watson. It's also not far from the border town of Bristol (Virginia/Tennessee) where some of the earliest country recordings originated.12
This Cripple Creek sounds as if it should be the origin of the country / bluegrass song. It's one of those places (like some of the Caledonias) too small for the AAA Atlas to reveal. The Appalachians were partly populated by people who had served as indentured servants further east, who moved west when their indenture expired.
Matt K
Most of the Irish, English and Scots arrived in that area in the aftermath of Cromwell's ascendency and were deported for purely political reasons...many by force. All that said, it's possible that "Cripple Creek" as a concept traces it's roots even back to Celtic imagery as easily as anything else. 13
You can go on to investigate how Cripple Creek, Colorado, got its name in the first place. The local tourist board website gives no answer, but Poverty Gulch neighbours it.
Occasional Visitor, New Mexico
I'm surprised you didn't get it from the Tourism folks, but the stream, and ultimately the town, was so named because of what often happened to the horses and cows crossing it. If you've been there, you've seen how the grass grows high right up to the banks and it's really narrow. Probably had a similar effect on more than a few humans, too. 14
Possibly. Town names got repeated as the migration westward continued. They struck gold at Cripple Creek, which may have reminded them of either of home, or a fantasy town in an old Appalachian song...
Matt K.
Having grown up in Colorado, I would minimize Cripple Creek, Colorado as a source here. If anything, the river Cripple Creek (which gives the town its name), probably got the name from the folk-image. Given that Cripple Creek , Colorado was a major mining area, perhaps Irish-American miners who left the coal hills of Virginia, Tennessee & Kentucky brought the name with them. 15
Back to the old song...
Musicologists went through the same Colorado v Virginia debate in attempting to trace the history of the folk / bluegrass standard. 16
Fiddlers website
An equally likely candidate for the title's origins lie with the Cripple Creek that flows through Grayson and Carroll Counties in Virginia, emptying into the New River. Betty Vornbrock reports that there is a 'town' by the name of Cripple Creek south of Wytheville, in Wythe County adjacent to Grayson County, near Elk Creek and Bull Mountain (both in Grayson). The story she heard is that "hunters were on the trail of a large buck elk who led them over Buck Mountain, then along and across Elk Creek and on up north till they shot him, but only crippled him, at Cripple Creek." Mike Yates (2002) confirms that "most Virginia musicians believe that it relates to a location in Wythe County, Virginia."
The folklorist Alan Jabbour researched the song for the Library of Congress. He was particularly concerned with dating the song and interviewed old fiddlers to discover when they first heard it.
Fiddlers website
The tune probably has no great antiquity. Glen Lyn, Virginia, fiddler Henry Reed (1884-1968), for example, told Alan Jabbour that he was sixteen years old when he first heard "Cripple Creek." Jabbour explains that Reed said the man who first played it for him was from Texas and was simply passing through the Tug River region.
This led him to speculate that the song originated from the West, with the gold rush town in Colorado, and especially from the period around the labor disputes in 1903-1904. He felt that the date and the salacious tone fitted the town.
Fiddlers website: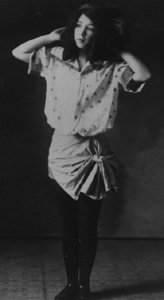 Maude Mae West Davis, 1912
Jabbour may be right, although not only was Cripple Creek an important mining town, but it also had a reputation -- the town featured several brothels, including Ella Holden's The Library, Pearl Sevan's Old Faithful, and Hazel Vernon's Old Homestead. In 1897 Hazel sold her establishment, intent on a comfortable retirement in California, and Pearl DeVere took it over. Pearl, however, ran into financial problems, and one night, The Cripple Creek Times article of the time reported, "a gay party was in full swing when Pearl excused herself, saying that she felt indisposed. She refused to let anyone go with her to her room. She was in high spirits all evening, a woman said, and never seemed happier or more carefree." Pearl took an intentional overdose of morphine, and was found the next morning, fully clothed and sprawled across her bed. Her assets did not cover the cost of her burial, and an appeal was made for donations "to give the little girl a real sendoff", as one Bennett Ave. bartender was heard to remark. Indeed, it was reputed to have been Colorado's biggest funeral to that date, featuring contingents from the local fire companies, the Elk's band, and men from Union Hall. Women from the dance halls and brothels decked themselves out and rode behind in rented carriages.
Google searches throw up all sorts of odd connections, and one it hit was the story of Dan Russell and His Matinee Girls. One of the company, Maudie West, was noted as having played theaters from 'the bayous of Louisiana to the mining towns of Cripple Creek', and on April 30th, 1911, she was performing in The Man, The Maid & The Money at the Arcade Theater in Lake Charles, Louisiana! Coincidence, or did someone see an old play bill?
Oh!... Canada?
This e-mail note started me re-looking at the song in 2006.
Ron Skinner
I was just reading about Up on Cripple Creek on the site. I am shocked that no one mentions that there is a Cripple Creek that runs right beside the Six Nations Reserve near Hamilton, Ontario. Robbie Robertson spent a great deal of his childhood on this reserve and most likely got the Cripple Creek reference from that Cripple Creek.17
There is a town in North Ontario...
I did a Google search and found a Cripple Creek in north Ontario, but that's not the right one. It might be fertile ground for a Neil Young website investigating Cripple Creek Ferry from After The Gold Rush, but I doubt that it has any connection here.
The only waterway marked on a Six Nations map is the Grand River. Ron adds:
Ron Skinner
I was taking a driving trip and was near the reserve and saw a road sign that said Cripple Creek. I thought, wow, that must be where Robbie got it from as he grew up near here. The Cripple Creek picture you saw at highway 101 is in the far north of Ontario. Nowhere near the Six Nations reserve.
but...
Greg D.
Having been on Six Nations many times, I'm not aware of any Cripple Creek. There could be one there, but if so it's not likely to be a major landmark and more of a muddy backwoods stream that runs dry in the summer, and not the obvious subject of a song. You're right in that the Grand River is the major waterway in the area.18
There are many more Cripple Creeks to be found in North America. As well as the Northern Ontario one, I quickly found a Cripple Creek near Sacramento, California, a Cripple Creek Drive in Austin, Texas and a Cripple Creek in San Antonio, Texas. You also can't discount the possibility of the Six Nations sign being a later thought, a tribute to their famous summer visitor of 50 years earlier.
The name resonates. As well as the original bluegrass song, Cripple Creek, there is a different 1968 song Cripple Creek by Alexander 'Skip' Spence on the very odd Oar album, and Neil Young's Cripple Creek Ferry on After The Gold Rush. In the end, maybe it's just a good, classic "Western" name like Calamity Gulch in the Desperate Dan comic books or The Deadwood Stage in reality. I'd guess it was a name Robbie Robertson knew from multiple contexts, including the bluegrass place of escape. But last word to David Powell:
David P
Perhaps it's not the mythology of folklore, as Greil Marcus suggested, but rather simply the consonance in the words themselves that's led to the frequent use in melody. By adding the "C" in front of the ripple of a creek, you get the bright crispness of the doubled "cr" sounds, achieving the effect of emphasis furthered by the doubled "p" and the hard "k" at the end.19
Themes...
Robbie Robertson
'Up On Cripple Creek' is also, somehow an extension of this American mythology, this Americana, going 'We're not dealing with people at the top of the ladder, we're saying what about that house out there in the middle of that field? What does this guy think, with that one light on upstairs, and that truck parked out there? That's who I'm curious about. What is going on in there? And just following the story of this person, and he just drives these trucks across the whole country, and he knows these characters that he drops in on, on his travels. Just following him with a camera. is really what this song's all about.' 20
Geographically this moves about. The narrator is up on a mountain, which I always used to presume was the one near Cripple Creek in the Rocky Mountain gold fields of Colorado, close to the Great Divide, but:
When I get off of this mountain
You know where I wanna go
Straight down the Mississippi River
to the Gulf of Mexico
To Lake Charles, Louisiana...
When you get to the chorus, you realize that Cripple Creek was a metaphor for what Bessie does to him as well as a place:
Up on Cripple Creek she sends me
If I spring a leak she mends me
Springing a leak could indicate having problems with life in general, or more directly with ejaculation. Possibly premature ejaculation too. Whatever, she mends him, gets him ready for more. As well as the literal sense of sending him "up on Cripple Creek," she sends me echoes Sam Cooke's You Send Me, and was an early 60s hip expression that was probably already old-jazzers talk by 1969.

So Bessie's effect is to make him feel good, as if he's struck gold (maybe). Greil Marcus comments on this, and it makes sense:

Greil Marcus

In American folklore, Cripple Creek is like the Big Rock Candy Mountain, a place where all fears vanish beyond memory. 21

So in this interpretation Up on Cripple Creek she sends me would mean that she puts him into an ecstatic (then) peaceful state. Being up on Cripple Creek is therefore the opposite of being up the creek (in trouble, or alternatively pregnant), which is a euphemism for up shit creek.

When I get off of this mountain... provides duality by giving a natural link with a place. (Or it could be When I get over this problem... at the same time).

An alternative is that he's "up on Cripple Creek" geographically because she's sent him there to get some more money / earn a living. By mining, or just by trucking.

That's what I always thought before I read Marcus. He's comparing it to Big Rock Candy Mountain, a song usually attributed to Harry 'Haywire Mac' McLintock, a hobo and an organizer for the socialist organization, The Wobblies (International Workers of The World). It was claimed to be written in 1928, but McLintock failed to maintain his copyright because the song was agreed to be an older hobo ballad. It was sanitized and made popular as a children's song by Burl Ives in the 1940s and 50s:
In the Big Rock Candy Mountains
There's a land that's fair and bright
Where the handouts grow on bushes
And you sleep out ev'ry night.
Where the boxcars are all empty
And the sun shines ev'ry day
Oh, I'm bound to go where there ain't no snow
Where the rain don't fall and the wind don't blow
In the Big Rock Candy Mountains.
Fine, everyone knows the song. The problem with Marcus's point was that I couldn't trace his "folklore Cripple Creek" at all. What did he mean by "in American folklore"? In the general American consciousness "The days of 49" and "The Klondike" also conjure up tales of striking it rich. Did he mean that Cripple Creek exists in the consciousness in this same way, or did he mean that there was a mythical place? He adds that it's a place where all fears vanish beyond memory, which is far more magical than a place full of gold, and which is not the bawdy Cripple Creek of the older song.
Pete Rivard
Craig Werner, in "A Change Is Gonna Come" points out, correctly, that many songs from the folk tradition whose original authorship is lost or disputed carry whole lines or verses cobbled from earlier songs, often gospels or spirituals. In those tunes, any wading the river" reference was understood from the slave perspective to have a literal meaning as well as a metaphorical. The river was where you threw the hounds off the scent, and maybe where you crossed from a slave state to a free state. So wading the river meant freedom. Crossing the Jordan River could mean leaving this life for an eternal reward, or escaping to a free life. So "Cripple Creek" at least echoes those meanings. 22
This is getting very close to Marcus's folklore reference - perhaps he should have said "folksong". The whole idea fits in with Big Mama versus little Bessie. Bessie promises freedom (and probably jumps on a boy like a dog on a bone). Pete Rivard adds some more ideas on the original folk song:
Peter Rivard
The traditional "Cripple Creek" seems to me to be mostly about crossing a borderline for fun of the forbidden variety. Like crossing the tracks to the poor side of town, or the red light district."Gonna wade ol' Cripple Creek 'fore I sleep" tells us that somebody's out for some fun under cover of darkness. The thrills are of the sexual variety, in most verses. My point is, despite a song's origin, or even it's original intent, as it is passed around it has additional understandings attached to the lyrics by the listener.
Now, Greil Marcus's description of it as "The Big Rock Candy Mountain" where all pain is erased, or whatever, is stretching the song lyrics in directions that it may not want to go. I think of Cripple Creek as the poor man's Las Vegas, not Never Never Land. 23
Pete's point about the poor man's Las Vegas neatly unites the two Cripple Creeks, as that's exactly what the Colorado one is.
As a creek is generally supposed to be slower, shallower and narrower than a river, it's interesting that flowing wide and deep is so recurrent. Maybe it's a reference in the way that waves breaking on a beach were a reference in 1950s movies. Pete Rivard's point about lines being recycled is reinforced in Caney Creek, by The Dillards which also runs wide and deep. The line gonna have some fun mentioned by David Powell also has a recycling reference:
Bones
The chorus that David Powell mentioned from the folk song "Cripple Creek" sounds just like the chorus to "Goin' to Acapulco" on the Basement Tapes. Same words. I'm surprised that Greil Marcus did not mention this in the book. Or did he? 24
Charlie Young added:
Charlie Young
I doubt that Cripple Creek has any underlying underground railroad reference; the population of the area in which the tune originated were mostly farmers of English, Scotch and Irish origin (only 10% of the population of the South were rich slave owners; Appalachia has a minimal African-American population). Despite what pseudo-musicologist Billy Joel claimed at this year's Rock'n'Roll Hall of Fame induction, not all American music borrows from African-American tradition. Bill Monroe, The Byrds and the Everly Brothers are just a few of the Rock Hall members who came out of the Appalachian tradition with virtually no African influence. 25
Cripple Creek, Virginia gives another angle to When I get off of this mountain - but this time approaching the Mississippi River from the East rather than the West. The connection to a bluegrass festival fits better than a gold strike.
But I'd reiterate that just as with Nazareth in The Weight, Robbie Robertson may have been aware of a multiplicity of musical and geographical Cripple Creeks.
While geography is the subject, Lake Charles is in South-West Louisiana and is important both for petro-chemicals (a neighbouring town is called Sulphur) and for the nearby rice growing areas26 (Listen to the rice while the wind blows cross the water... ). If you see the brown album as a concept album, as Barney Hoskyns does, there are all sorts of interconnections.
The rice field connects with King Harvest

The descending a Colorado mountain connects to Across The Great divide

One of the Bluegrass sites connects Cripple Creek to Ida Red and mentions the old call and response from I Bowed My Head and Cried Holy, If I thought It would do any good, I'd stand on the rock where Moses stood which is in When You Awake.
Steve Alleman
I'm from Louisiana (New Orleans)... Peter Rivard's comment about Cripple Creek
being about "crossing a borderline for fun of the forbidden variety"got me thinking, especially in light of your 'two Cripple Creeks"concept, about Lake Charles. Lake Charles nowadays is mostly known as a place where the petrochemical plants give the air a sulphurous smell. But culturally it's a kind of in-between place -- too far west to be part of Acadiana (Cajun country), still not really fully in the sway of Texas, yet partaking of both regions. It's not completely Catholic or Protestant, and there are both Cajun and Texan families there, their intermarried descendants having ended up with an odd accent that isn't one or the other. This reminds me of the Band's music, which, while having elements of the various strands of American music, finally doesn't sound like the blues or C&W or soul exactly but rather an indefinable blend of styles. Maybe this is why the singer wants to go to a place like Lake Charles, because it represents freedom from the restrictions of a narrowly conceived heritage.27
Spike Jones on the box...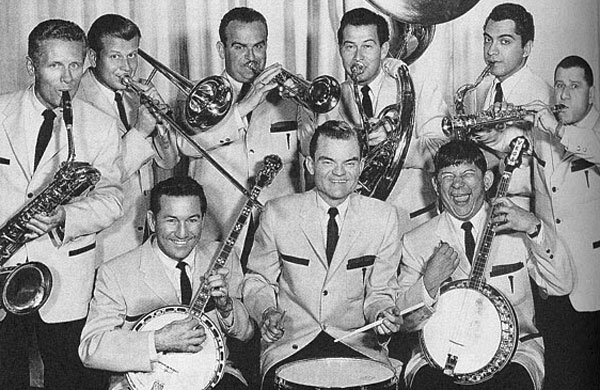 The Spike Jones Band
The narrator (Levon of course), spends his time reminiscing about Lake Charles. Robbie says it's about a truck driver ranging across the country but there's little internal evidence to see it as a direct forbear of Six Days On The Road or Convoy. Robbie chose to place the narrator - the trucker, as he says (and Greil Marcus gets this picture of a trucker too), ostensibly on a mountain, maybe near a place that was famous for bluegrass or one that was thriving in the 1890s. then he cartwheels through to Me and my mate were back in the shack, we had Spike Jones on the box...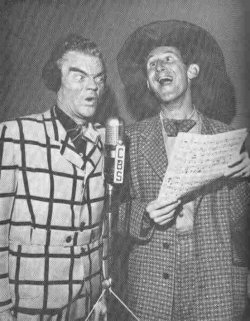 Spike Jones and Doodles Weaver - on radio
So we're suddenly watching a 1950/60s TV programme. "on the box" was 50s / 60s British slang for "on TV". It's now out of date. To me, they're watching Spike Jones on TV, though most North American listeners always guessed it was a radio or a record player, not that they had used the expression themselves. Spike Jones (1911-65) started his career on radio, then successfully moved into records, then film, then television. When I first heard the song in 1969 I immediately conjured up the TV version of Spike Jones, in B & W, singing Cocktails For Two. I was wrong I think - The Spike Jones song they were listening to (or watching) must surely have been The William Tell Overture where a horse race is narrated (Mother-in-law is nagging in the rear... ), and in fact the narrator is Doodles Weaver rather than Spike Jones himself.
I'd seen him on TV but didn't think of him as a recording artist. I was worried about the word "box" as it had a very strong collocation with TV in Britain in 1969, though 35 years later it sounds old-fashioned. I was interested because Websters don't list this use for American English. But some British English words are found in Canada (and neighbouring areas of the USA), such as "pop" for "soda". I was surprised when I saw "pop" in Canada as it had long been replaced by "soft drink" in England and sounded very 1950s. An old record player sounds more likely than radio, if the word was not common and was being used specifically for the song . "we had Spike Jones on the box" favours interpretation of a record player, as "we had" suggests choice. Though by The Band is Back video, Levon sings that they put Spike Jones on the box, which favours the record player over the TV. Also, I once saw a documentary on an attempt to introduce "TV Jukeboxes" using Cineloop film. Most of the material was jazzy, and I remember Spike Jones and Duke Ellington as examples, which might date it. Cineloop film was incredibly unreliable and broke frequently. They certainly wouldn't have had a jukebox back at the shack though, unless the shack was a bar (back at the Chicken Shack) rather than home. I think of it as her home.
Matt Kennedy
I queried my mother-in-law about Spike Jones in terms of how she thinks of him (on TV vs. Vinyl). She is Robbie's age (April, 1941), and other than the fact she is from Massachusetts instead of Canada, I'm gonna take a leap that her cultural memories about television would map to Robbie's in terms of time frame and context. I asked her if her memories of Spike Jones were via recordings or his TV show. She didn't blink- TV show, she said. I asked my own mother who is about 4 years older. She has stronger memories of the vinyl recordings, which she owned, but noted that most of her friends knew Spike from his TV work as much as his recordings. Sounds like a bit of a toss-up, but the moms are in synch with RR, then it's fair to assume that a poor kid from Ontario would probably have found watching a TV show more cost effective than buying the vinyl. Also, unless the narrator brought his records on the road, Bessie's reaction implies that she's not familiar with Spike, which would enforce the idea of the narrator and Bessie watching the tube. For the record, I always assumed "box" meant radio... 28
I can't hear one of Spike Jones's novelty records without recalling the line I can't take the way he sings, but I love to hear him talk.29
We also spin out to the race track, (She bet on one horse to win, and I bet on another to show...). Though I'm not a gambler, I imagine the odds at five to one would have been on a win, and if the horse won he got money for a place (show) as well. Unless he bet a lot, the winnings can't have been that great. Perhaps that's why Bessie tore them up.
Bill Munson
re divvying up the winnings, I don't think the narrator was being unfair. He made an uncharacteristically cautious bet with his share of the pot (on a horse to come third!), whereas Bessie put her share on another horse to win - which it did. It seems fair to me that the two owners of the collective pot would share the collective take (i.e, Bessie's winner and possibly the narrator's too, if his horse came second or third). The narrator, it seems to me, made a nice gesture in offering Bessie half of his half, even if the gesture was rejected.30
In revisiting the lyrics of Up On Cripple Creek I noticed for the first time the awkwardness of the line:
And that nag to win came around the track
But as Bill Munson pointed out, sports talk is a law unto itself.
Most people assume he's with Little Bessie watching Spike Jones (I do) but there is an alternative:
Mark Thomas
I'm not sure if the narrator's mate (from "me and my mate are back at the shack") is supposed to be Little Bessie or Big Mama. I'm leaning toward the idea that Big Mama has said something really stupid (is there much difference between Spike Jones' singing and his talking?). The line about his heart getting a "throb to the bottom of his feet" is sarcasm. As he takes a pull on his jug of moonshine or bong, the truck driver thinks about how he would really rather be with Bessie.31
Truckin'
The trucker theme just means that the truck was coming down a mountain whether it was near any of the Cripple Creeks or not. But the choice of location sets up a resonance of a time shift as in The Weight. But it seems unlikely that an album which starts off with crossing the Great Divide should mention a location so near the Continental Divide itself entirely by chance, even if Cripple Creek is principally an Appalachian folk music reference . After all, the Cripple Creek in Colorado is better known than the one in Virginia. There's a convoluted cross-link on the album with Look Out Cleveland:
Was Wednesday evening when first we heard the word
It did not come by train or bird
T'was when Ben Pike stepped down to say
'This old town's gonna blow away'...
The name of the character may not be chosen purely at random. The Western Cripple Creek is right below Pike's Peak in Colorado, and Ben Pike stepped down to say... . The explorer who discovered Pike's Peak in 1806 was actually called Captain Zebulon Pike, and he'd found it by following the Arkansas River in search of its source, which is an incredibly tortuous link between Cripple Creek and the Hawks origins. (Don't bother to try - I've listened hard and I'm absolutely sure Danko sings 'Ben' not 'Zeb' which is a pity!). And Cripple Creek did get blown away in 1904, though not by the twister in Look Out Cleveland. By the way, I think this is a pure coincidence, but I'll note it anyhow.
One line is particularly telling in the light of subsequent events like the song Stage Fright and The Last Waltz,:
This living off the road,
is gettin' pretty old 32
Livin' off the road fits with a trucker, who makes his living "off" or "from" the road, but also with a travelling musician, who might be coming down from the bluegrass festival in Virginia, or a hobo or an itinerant miner in Colorado. No one says the road has to be a paved /blacktop surface. The Band had been living and recording in the Catskills, and had got off the mountain(s) themselves to record the brown album in Los Angeles. Following an analogy (conscious or unconscious) with the state of The Band at the time, it's relevant that the singer is still on the mountain (The Catskills? The grind of daily work? Stardom?) and aims to get off it and head down to Louisiana, just as Levon did when he quit the Dylan tour in late 1965 and headed down to work on the oil rigs in the Gulf of Mexico.
Until I read that Robbie intended the narrator as a trucker, I saw him as a miner (whether in the past or not, it didn't matter) who was desperate to get back to Little Bessie in Louisiana. Andy Gill also picked up a related picture:
Andy Gill
Take the opening couplet of "Up On Cripple Creek" one of the record's cornier songs" 'When I get over (sic) this mountain / You know where I wanna go?' conjures up a picture of saddlesore cowpokes or hoary hobos round the campfire getting all misty-eyed about their big mamas, little Bessies and similar drunkard's dreams; all the regret and nostalgia and yearning of America and the knowledge that, in the depths of struggle and despair, there's still some fantasy, some American dream, that may yet be fulfilled/. 33
Andy Gill's cowboy interpretation probably comes from the hollering and yodelling, courtesy of Rick and Levon, between the later verses.
The trucker theme is apparent in the line:
So I guess I'll call up my Big Mama
Tell her I'll be rollin' in
A truck rolls in. Canadian readers have pointed to the popularity of the trucker series Cannonball in the early 60s, in reference to The Weight. Some people have heard 'trucker's dream' rather than 'drunkard's dream' on the original of Up On Cripple Creek, which I've never heard, but it does sound somewhat more like 'trucker' on the alternative take which appeared on the remastered CD in 2000.
Mark Thomas
I always assumed the last line of the chorus was "Trucker's dream if I ever did see one." I see it is listed as "Drunkard's dream" on every 'net reference I checked. Strange, considering how you tie in the rest of the references to truck driving.34
Maybe truckers are a theme Robbie related to. I'm sure the song Drunkard's Dream is the reference.
Little Bessie and Big Mama
Note that Bessie is little (and this is generally an endearment, in spite of the implied sizism) and Mama is big, which is potentially more motherly, but also more threatening to the singer.
Robbie Robertson
This guy's basically irresponsible, and whenever he gets sideways he knows he can rely on this woman' 35
The relationship with Big Mama is unclear. He only "guesses" he'll call her up and tell he's rolling in. But the instant reaction is that she's his wife, or long-time partner. She's not in Lake Charles, but that's where he's tempted to go. Bessie is a dream... a drunkard's reminiscence36; Bessie isn't his Big Mama because he continues:
But you know deep down I'm kinda tempted*
to go and see my Bessie again.

* (sorely tempted on The Last Waltz - an improvement)
Barney Hoskyns
(Levon) was clearly having the time of his life, even when the moment came for the song's picareresque hero to call up the "big Mama" to whom he was actually married. 37
No textual evidence there, Barney, but I know how you got that impression. Also, Lake Charles isn't where he's gonna go, it's where he wants to go.
The song is about the narrator's memories of Bessie, a love song in retrospect, a tale of a rush of blood not a tale of a gold rush. The trucker is returning to his Big Mama, but his thoughts are on good times in the past with Bessie. Maybe, he'll never get back to Lake Charles.
Ronnie Hawkins 1969 Rolling Stone interview both spilled the beans (i.e. told tales out of school) and set up part of the myth of The Band. Some people have assumed that Bessie is a "woman of easy virtue," i.e. a hooker (see Hawkins tales of Odessa, immortalised in the song of the same name).
Levon Helm
Little Bessie is an echo of Rick's song Bessie Smith from the basement tapes. People always wanted to know who she was, and I'd tell em it was Caledonia's cousin.38
Greil Marcus
Odessa was a tribute to Hawkins' favourite whore (who perhaps reappears as Bessie in The Band's Up On Cripple Creek). 39
Odessa... Dessie... Bessie. There is no evidence of this in the lyrics. I guess you could argue that she sends him up on Cripple Creek (West) because she's a "tart with a heart of gold" so that Cripple Creek is the gold he discovers in her. Think about the lines from the next album, in W.S. Walcott's Medicine Show:
See Miss Brer Fox Hole
with bright diamonds in her teeth 40
she is pure gold down underneath
You decide if gold is the root filling below her diamond crowns, the value the singer places on her, the warmth of her heart, the quality of the experience or the earning power of her lower regions. Lyricists tend to re-use themes.
An old girlfriend (whatever her occupation) fits whichever way you read it.
Now me and my mate were back at the shack
We had Spike Jones on the box...

I took up all of my winnings
And gave my little Bessie half
She tore it up and threw it right in my face
Just for a laugh...

That's when that good love of mine*
Dips a doughnut in my tea

(* Sweet little thing of mine / Puts a doughnut... on The Last Waltz)
It all seems friendly, established and pretty comfortable rather than a snatched moment of commercial passion. I've always wondered about the line dips a doughnut in my tea41, which sounds as if it should be a risqué sexual reference. I can't work out how, and no one seems to have heard the reference in any other setting. The Band Guestbook has pondered this one a few times and while a doughnut has a hole in it, with sugar walls, no one has convincingly explained the sexual metaphor, whether 'tea' is a drink (most likely) or early 50s slang for marijuana. Dip your wick is a British expression for having sex, but Levon doesn't stick with dip in later versions, where he switches to put, so I don't believe dip is crucial to the line! Saying things that are innocent, but sound as if they're meant to be rude is an old comic tradition. There's a wonderful line in Mickey O'Donahue's comedy play, The Hunchback of Notre Dame where a character says "I've been castigated by the burgers!" The assembled cast of Parisians all say "Oooh!" simultaneously. Anyway leaning over to dip a doughnut in someone's tea functions just as well as a cosy domestic image.
The contrary argument might come from the early lines:
Little Bessie I once knew
And she told me just to come on by
If there's anything she could do...
Assuming knew doubles for the Biblical sense (as in other lyrics), it seems she's available whenever he wants to see her, but that's still not evidence of any commercial transaction.
Richard Logan
I've always thought of "tea" as the letter "T", not the drink. One can fairly easily visualize the male sexual organs as being roughly in a "T" shape. The female vagina could of course be very easily seen as a donut, and the "...donut in my tea" becomes what to me has always been slang for intercourse. 42
But wouldn't that be the other way around (as the Bishop said to the actress... )
There is a picaresque thread running through the brown album, and this fits in most closely to Jemima Surrender, but the sex in this one seems generally more laid back than the passion aroused by Jemima.
The final verse is in the context of the album, particularly for those who see all or most of the album in a Southern setting (like Hoskyns):
There's a flood out in California
and up north it's freezing cold ...
The Band had been recording in California. The songwriting was completed during the recording sessions for The Band in Los Angeles. Up north represents both Canada and Woodstock, so the narrator is heading back south to Louisiana.
Live performances
The song stayed as a solid part of their live act right through to The Last Waltz. The earliest widely available one was on the bootleg Live At The Hollywood Bowl 1970 and even the CD seems to suffer from tape fluctuation on a warm, loose version. Levon describes this show amusingly in his autobiography. He didn't feel they had played their best. (Little Bessie becomes good Little Bessie and drunkard's dream sounds appropriate).
The reason it didn't appear on the original Rock of Ages set was presumably the absence of horns. It was the opening song of the set, before the horn section joined them on stage. The out-take appeared first on Crossing the Great Divide, then on the remastered version of Rock of Ages as one of ten bonus tracks. Up On Cripple Creek was recorded on December 30th rather than New Year's Eve. In the liner notes, Rob Bowman points out that Robbie was quoted as saying 80% came from December 31st, while engineer Phil Ramone maintains that most of it is from December 30th. Since then, others have claimed that nearly all of it is actually from rehearsals with the horn section. This version has the piano mixed well forward for a refreshing change, as is Richard's backing voice. It is otherwise comparatively lacklustre. Levon sounds tired (and sings puts a doughnut in my tea which isn't as precise as dips.)
Every one of the many bootlegs of the 1974 Dylan tour features it. It's also on the official release Before the Flood, which was recorded in Los Angeles. The clavinette has fallen further back in the mix. The guitar and organ are more noticeable, and it's also slightly tired, the end of a long tour. I prefer the version earlier in the tour from Boston on the bootleg Love Songs From America.
It closes the Live At Watkin's Glen album (which is a fake, and is not from Watkin's Glen). Levon is singing in his most lascivious voice, and the organ is great. The vocals beat the two mentioned above.
The heavily bootlegged King Biscuit Flower Hour show from Washington 1976 features a fine version, but the guitar chords are too prominent in the backing.
The best of the official live versions is the one that opened The Last Waltz . This is the most powerful of Levon's vocals with the backing voices sounding anthemic. It appears to me that there are three backing voices in spite of what Levon has said about Robbie's mic being switched off. As on Rock of Ages they saw no reason to add horns just because they were available. And they were relying on their mix, not a radio engineer's as in the King Biscuit show. Perhaps more surprising is how little the song had changed over the six years since the Hollywood Bowl concert, where there were already meatier electric guitar fills, though Levon changes words throughout.
It was also a standard number on the 1983/84 tour with the Cate Bros, and featured on several (but by no means all) Levon Helm solo shows in the 1980s. A memorable tape of the song from August 1987 features Bruce Springsteen jamming with the Levon Helm All-Stars at the Stone Pony. On the Band is Back video from the Vancouver show, Levon announces that he hopes he remembers the words, and there are many changes, such as my horse ran around the track (an improvement) and How that little Bessie puts a donut in my tea (not an improvement). He also sings the printed lyric And I swore and I took another pull rather than the more sensible Brown album I swore as I took another pull. The backing vocals from Rick Danko and Earl Cate are mixed high.
By the early 1990s it had ceased to be an automatic part of the reunited Band's set, and Rag Mama Rag became the only guaranteed live memento of their best album at 90s concerts. They did play it, especially in obvious locations like the Telluride Bluegrass Festival in Colorado. This takes place near Cripple Creek, but I don't think that answers the earlier questions. Any sensible musician would take advantage of the proximity, whether the reference was apposite or not. 43 Rick Danko used to do an audience singalong version, but more often replaced it with The Weight. On the evidence of live tapes, too few know the words.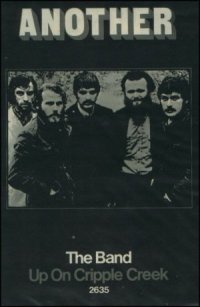 Billboard ad. for "Cripple Creek"
Versions
Studio
An alternate studio take appeared on The Band (Remaster) in 2000 as a bonus track:
Rob Bowman
There is a slight lyric change, the jew's harp / clavinet breaks are quite different and the yodelling at the end is not quite as robust. Ultimately it is not as strong or sharp as the released version but nevertheless it is very interesting to hear the variations between the two takes.44
The other change is from 'we had won' (studio), or 'she had won' (printed lyric) or 'Little Bessie had won' (live) to 'I had won'. Levon's vocal is more relaxed and more conversational, and it dies out to a dribble at the end.
Official live albums
Compilations
Video / DVD
Bootlegs
For more information, see the bootleg lists at The Band web site.
Live At The Hollywood Bowl (1970)
Royal Albert Rags (London, 1971)
Central Park (NYC, 1971)
Crossing The Great Divide (Rock of Ages out-take)
Blue Highways (Jersey City, 1973)
Roosevelt Stadium (Jersey City, 1973)
Love Songs for America (Boston 1974)
Into The Flood (Washington 1974)
New York 74 (NYC 1974 evening)
Before & After The Flood (NYC 1974 afternoon)
The Poet & The Players (NYC 1974 afternoon)
Bittersweet (NYC 1974 afternoon)
Fort Worth 1974
Paint the Daytime Black (L.A., 1974)
Live in Washington DC 1976
Ophelia (Washington 1976)
And The Band Played On (Washington 1976)
Tears of Grief (LA 1976)
Take A Load for Free (Paladium, NYC, 1976)
Forbidden Fruit (MA, 1976)
The Complete Last Waltz
Tapes
Too numerous to mention. Their most frequently performed song is The Weight. Up On Cripple Creek competes with It Makes No Difference for second place.
Cover versions
For full information, see the list of cover versions at The Band web site.
Goody Two Shoes (Come Together, 1969)
Buck Owens (Live in Scandinavia, 1970)
Lalla Hansen (Upp til Ragvaldstrask, 1971)
Kings Road (on Pickwick cheapo Watkins Glen, 1973)
Freddy Weller (Listen To The Young Folks, 1975)
Theresa Brewer (In London, 1975)
The Oak Ridge Boys (Bobbie Sue, 1982)
Gang Starr (Rhythm track sampled by rap group as Beyond Comprehension on Step Into The Arena, 1991)
The Radiators (ob Snafu 10-31-91, 1992)
Tom Wopat (The Dukes of Hazzard, 1997)
Wigwam (Finnish group, 12 minute version on Jee Jee Jee 1998)
Ralph Litwin (on Ralph Litwin & Band, 1998)
Wil Gravatt Band (Live at Whitney's, 2000)
Appendix One
Little Brother, from Philadelphia.
Little Brother had too many good comments to slice up, so I've kept them intact.
"Box" definitely suggests radio, or pre-"hi-fi" record player. Of course, it's one of those universal terms, like "machine". My father used it frequently for "automobile", as in, "I see you got a new machine, there, Jack." Brother Edmond, who taught typing in high school, meant "typewriter" when he said, "Cover those machines!" Come to think of it, both "box" and "machine" can be sexual terms as well. Hmmm...
I'd written previously about running into a retired truck driver who thought the verse was, "A TRUCKER'S dream if I ever did see one." John Poppy's 1970 LOOK article describes the tune as "a sexy truck driver's salty ballad to the girl he's stashed in Lake Charles, La." Apparently Robbie thinks the narrator is a truck driver, too. The song was released well before the cornball "Convoy" CB trucker fad of the late Seventies, but I always pictured some overworked tractor-trailer driver driving his rig down some tricky, treacherous mountain highway, dying to drop his load and dreaming of well-earned freedom = Bessie.
As many of the insights in Peter's article suggest, this song comes from a place also called Jupiter Hollow-- a freewheeling, euphoric, zany Wonderland where Tricksters rule. The "plot points" can't be connected like dots, at least not to make a straight line. Time and place are all swirled around, like a Quentin Tarrantino screenplay. He "wants" to go to little Bessie, and it sure sounds like he got there. Does that mean all the hijinks 'n thrills of the middle verses are reminiscences of past times? Tenses shift back and forth, but the gleeful zeal of the narrator gives the events an edge that's fresh and immediate.
Poor "big mama", the mundane significant other waiting at home! (Maybe she's"Molly", across the Great Divide, standing by her window in pain...) Because this hymn to Bessie justs burst with psychedelic joy at her mind-boggling ways! He's got the "good luck", but damned if SHE doesn't take the pot! (I prefer the original line to the sweeter, "...me AND Little Bessie had won" sung in concert.) She TAKES the pot, but damned if she don't turn it into confetti for the pure randy hell of it! What a piece of work! What a babe!
I think this tune has a thematic twin in a very different suit in Dylan's "From A Buick 6" Here, too, we have a overburdened man's ode to a soulful mama who "keeps me hid... is bound to put a blanket on my bed".
The definitive verse:
Well, she don't make me nervous, she don't talk too much
She walks like Bo Diddley and she don't need no crutch
She keeps this 4-10 a; loaded with lead
Well, if I go down dyin' you know she's bound to put a blanket on my bed...
Dylan doesn't say, but her name could very well be Bessie.
For all of my childish wariness of Robbie for being insufficiently Warm 'N
Wonderful, I think "Little Bessie" is an inspired, masterful creation. To me, she's a manifestation of Zina, the Fairy Princess, conjured up from RR/The Band's personal experience. ("Zina" is a figure of myth and folklore who appears in Philip K. Dick's "The Divine Invasion"; PKD/Band music have other points of resonance.) Anyway, don't think "Fairy Princess" as in the trite juvenile image of some Tinkerbelle in a tutu.
We're talking about a magical, powerful feminine presence-- a special, extraordinary woman touched by, or part of, the divine. A Gypsy Queen, something on the order of Yeats' "glimmering girl with apple blossoms in her hair". Happily for the narrator, Little Bessie is a down-home variety, not a fatal attractor who always dances just out of reach. She's a Good Witch, mysteriously conferring favor, in the form of a standing invitation, to her chosen.
Somehow or other, you drift on by and stay with her a spell, and it's a swell time allaround. It's just laid out so perfectly: You feel lucky, you head to the track. Bessie sortof comes along for the ride; she places her own bet, in a casual, whimsical, offhandway. Just to be good company, go along with the program, share the fun. Bang!Everyone's a winner-- such is life in Bessie's charmed circle. (By the way, Levon DOES sing "...sure enough, WE had won" in the studio version, doesn't he? The printed lyrics on this site read "she".)
I can't agree with the speculation that Bessie tears up the winnings BECAUSE
they're insignificant. Given my take, I see it as Bessie/Zina, in the midst of her
affectionate frolicking, saying in effect, "Silly mortal! Your money's no good HERE! When you're with ME, we're into something way richer than petty, shabby, wordly rewards!" It's no accident that praise for her Incredible Edible Doughnut caps the verse. I never heard that particular metaphor either, but it DEFINITELY isn't meant to mean he so enjoys a cuppa tea with his lady-friend.
I agree that there's less explicit sexuality or raunchiness in this song, but I think that's because Bessie is so, er, ACCOMMODATING. "Jemima Surrender", "Rag Mama Rag", even "Volcano" are hotter, in my opinion, because they're superheated with frustration. Here the concentrated essence of prowling tomcat (such a, shall we say, seminal component of true Band personality at the time) isn't clawing at the turf and howling furiously-- it's purring, yelping, and chuckling. As noted, Bessie is a synthesis of the many enthusiastic sexual partners, professional or otherwise, who met the guys more than halfway. The nice thing here is that Bessie is no mere lowlife whore or throwaway groupie du jour. She's got character, soul, depth. Even though the narrator will return to a Big Mama, that line "Me and my MATE" is striking. It's possible, I suppose, to conjecture th this guy lives with his mother or something, but it just feels like, as I said previously, Big Mama is his woman but Bessie is his (soul) MATE. (Even so, one gathers you can't
just LIVE with Bessie. Again, this goes to my notion that she's got a foot in the other world; if you tried to stay forever you'd either burn out or the magic would.)
Even the music works with all this-- like a cheerful counterpoint to the dark classic, "Season of the Witch". That crazy, magical, absurd clavinette Jew's harp squawking underneath, yet a churchy organ rising in the chorus. Little Bessie's promise of libidinous fulfillment, the righteous succor she gives unconditionally, the counter-mundane magic, versus the routine, predictable, wearying demands of everyday life: the road, even Big Mama. All this knit together with those remarkable drums-- counterpoint to the narrator, an ordinary man with enough sense to sing the praises of a rare and exotic love...
Appendix Two
This wonderful "psychological" take on Bessie was posted in the Band Guestbook, by Jennie T. It caused some annoyance in those who didn't get the joke. I replied in similar style.
Is Bessie a co-dependent moron or what?
by Jennie 'Oprah' T. from Cincinatti.
I have what I think is a totally new topic for the Guestbook: psychoanalyzing "Bessie" from Up on Cripple Creek, and questioning whether she isn't actually a real "dream"--a fantasy.
First of all you have to ask what does she get out of this relationship, which is essentially a standing invitation for occasional visits from a married, hard-drinking, gambling, high maintenance kind of guy that all her friends and family probably think is a loser. A guy who probably barfs and does other disgusting things, and who probably has whisky dick a significant amount of the time. She won't take money from him, he's probably not a star in the sack, and he probably doesn't bust his butt meeting her needs though she spends quite a lot of effort meeting his. He does appreciate her, and presumably expresses his appreciation to her, but appreciation and a dollar will get you a cup of coffee.
The only type of woman I am familiar with that would put up with such a one sided, pain in the butt, insubstantial relationship is not the cheerful, fun-loving, spunky type but the drama queen, the woman with REALLY bad taste in men who seemingly makes life decisions in order to create as much chaos and crisis for herself as possible, and thus get a lot of attention and sympathy. That is why I think Bessie IS a dream, a fantasy.
Bessie must also be overly endowed with nurturing instincts--one of those women that likes to have lots of wounded birds to take care of, so as to make herself feel useful and needed. She should probably get a job in a hospital (or a detox center) so she could use up her nurturing abilities in a more useful and rewarding way. She probably has no squeemishness about bodily fluids and likes bandaging injuries.
She should also get some therapy to raise her self-esteem and realize she needs to think about her own wishes, needs and dreams more, and other peoples' less. Her defense of this guy to others is not necessarily a sign of her independent-mindedness, since every woman is blind to the faults of whatever loser she is hanging out with and will defend him even if all her friends think she is wasting her time or he is jerking her around. With her sense of humor and other competencies, Bessie could do better, but never will if everyone in town thinks she is a doormat for married, troublesome guys. Eventually I think the guy will show up and Bessie will have awakened and smelled the cheap booze, and will be singing "What have you done for me lately, ooh ooh ooh yeah." Thoughts, anyone?
Bessie on the Couch
Response by Peter Viney
Discussed Jenny's take on Bessie. It's pretty obvious that the trucker has a classic 'Madonna v whore' complex, as evidenced by his Oedipal reference to his wife as 'Big Mama'. Bessie's preference for the travelling man is anthropologically interesting. If it was a small frontier community, you could point to a woman being drawn to the traveller because she has a deep-seated underlying desire to enlarge the local gene pool, thus avoiding genetic disorders in closed communities. Which is why some Pacific islanders in the 19th century allegedly rushed to offer their wives to the first European visitors. But Lake Charles isn't a small frontier community. Maybe she has inherited the need for diversification of the gene pool from her immediate ancestors who did live in such communities. This begs the question of the trucker's probable inabilities to diversify the gene pool which Jenny has pointed out. He's cackling at Spike Jones on TVand will be comatose by bedtime.
OK, which character in a Band song gets the next psychological analysis?
Footnotes
1 Levon Helm, quoted in Barney Hoskyns, Across The Great Divide
2 Interviewed on Classic Albums: The Band
3 Max Weinberg, notes to Let There Be Drums, Vol 2 Rhino CD
4 Rob Bowman, sleeve notes to To Kingdom Come
5 David Powell, The Band web site, 13 April 1999
6 Bonus track on the 2000 remaster of Music From Big Pink. Also on The Genuine Bootleg Series Vol 4.
7 On the website: www.creative-native.com/lyrics/cripplyr.htm, SADavid found this link.
10 Charlie Young, The Band web site, 15 April 1999
11 SADavid, Guestbook, 7 January 2006
12 Charlie Young, The Band web site, 13 April 1999
13 Matt K, The Band web site, 14 April 1999
14 Guestbook, 19 April 1999
15 Matt K, The Band web site, 14 April 1999
16 This information comes from http://www.ibiblio.org/fiddlers, and was pointed out to me by SADavid.
17 Ron Skinner, by e-mail, 1 & 2 January 2006
18 Guestbook post, 6 January 2006
19 Guestbook, 7 January 2006.
20 Radio interview. 'In The Studio' 1988
21 Greil Marcus, Mystery Train notes and discographies.
22 Pete Rivard, The Band web site, 14 April 1999
23 Pete Rivard, The Band web site, 14 April 1999
24 "Bones" The Band web site, 14 April 1999
25 Charlie Young, The Band web site, 14 April 1999
26 Petrochemicals and rice are an unpleasant collocation, which made me buy French Camargue rice today rather than the American Long Grain I was about to purchase!
27 By e-mail
28 Guestbook post, 20 April 1999
29 Maybe Robertson was seeing into the future and picking up on the critics who disliked his singing voice (like Levon Helm in This Wheel's On Fire )!
30 Guestbook, 9 January 2006
31 e-mail, December 2002
32 This point is made in the sleevenotes to Anthology Volume 1 -- which adds that they hadn't even done their first tour as The Band when Robbie wrote it. Also note it's OFF the road, not ON the road as it has been transcribed.
33 Andy Gill, 'Yearning' review of Band CD re-releases, Q #12, September 1987
34 e-mail, December 2002
35 Sleeve notes to CD 'Anthology Volume 1'.
36 A drunkards dream is transcribed as "a brokers stream" on the high-priced Toshiba-EMI remaster, and the next line as "If I ever did seem. Oh!'
37 Barney Hoskyns, 'Across The Great Divide.'
38 Levon Helm & Stephen Davies 'This Wheel's On Fire' The text says Caledonia (throwing new light on the name in Caledonia Mission?), but presumably means Caldonia (even official releases get this confused).
39 Greil Marcus, 'Mystery Train' Notes and discographies.
40 Disputed lyric here. The Toshiba-EMI remaster has "Miss Brown Fox- Hole" which is just crude. I'm not sure whether the first recording is "bright" or "with bright" before "diamonds in her teeth". The site lyrics have "Gonna see Miss Brer Fox Hole who's got diamonds…" - I'm taking "Rock of Ages" as the definitive and clearer version.
41 The transcribed lyric from the sheet music is her doughnut, but Levon sings a doughnut
42 By e-mail. Date not recorded.
43 At The Electric Factory in Philadelphia they did it in February 1996 as a jam. Otherwise it's absent from 1990s tapes..
44 Rob Bowman, sleeve notes to the remastered version, July 2000
---
[History] [Members] [Library] [Discography] [Videography] [Filmography] [Pictures] [Audio Files] [Video Clips] [Tape Archive] [Concerts] [Related Artists] [Merchandise] [Guestbook] [Chat Room] [Search] [What's New?] [Main Page]
Webmaster