Jim Weider & Randy Ciarlante:
The "Remedy" for Playing in The Band
---
by Mark T. Gould
From Sound Waves Magazine, November 2002.
Copyright © 2002 Mark T. Gould and Sound Waves Magazine.
---
What's it like to be the new players in a group, particularly one of the seminal "bands" in the history of rock and roll? How does it feel to replace one of the most respected, renowned guitarists and songwriters around? What happens when you're the new second drummer and vocalist, playing alongside of the best drummers and singers in the business?

Is it a lonely place to be? Is it the big breakdown, instead of the big break? Not in the least, according to Jim Weider, who replaced the legendary Robbie Robertson as lead guitarist and songwriter in the Band, and Randy Ciarlante, added as a second drummer and vocalist for the group, playing alongside Levon Helm, shortly after the group reformed, in the mid 80s.

"I felt like I slid right in, because I had known and played with them for so long in Woodstock, over the years, and they still had those three voices, Richard (Manuel), Rick (Danko) and Levon, which were just amazing and made it very special," Weider said during a recent interview with Ciarlante and him, conducted between two days of performances of The Jim Weider Band at the B.B. King Blues Club at the Foxwoods Casino. "Going from playing with those guys in bars in a small town, to an audience of 20,000 people, now that was something."

"I would do all of his (Robertson's) trademark intro guitar licks, but then I would just do my own kind of solos. He wrote those licks into the songs, made them part of the songs, so you really had to do them," Weider said."I could never come close to filling his shoes, I just looked at it as an incredible opportunity to write songs and play with this amazing group."

Ciarlante, who joined a few years after Weider, and is the current drummer and lead vocalist in Weider's group, agreed, adding that familiarity with the core members made it an easy fit.

"We had played so many times, so many shows with those guys, outside of the Band, that we were able to bounce around what their ideas were, what their roots were," he said. "We approached it not so much as what Robertson had written, and what these guys had done as the Band, but what and where they came from. It made for a bit of a different direction once we came on board."

Weider agreed, adding "we made the Band more of a 'boogie rocking' group, getting away from some of those 'concept' songs (that Robertson wrote). I'm not sure that Rick ever really liked it that way, because, in the old days, the Band was much more acoustic, more vocal oriented. When Randy and I were there, it rocked more, we played a little bit harder, being from that rock and roll background, so we changed the Band, which I thought was a good thing.

"And, Levon really dug it," he said, chuckling.

Ironically, both Weider and Ciarlante had been exposed to the Band's music early on, and played informally with the original members, because both men actually grew up in, rather than migrated, as other musicians did, to the Woodstock area, where the Band members lived and played. Weider, in particular, remembers the day he first heard the Band's songs.

"I was upstairs, above this great club in Woodstock," he remembered, " and 'Chest Fever' came on the radio. It was Garth (Hudson's) distorted organ part, and I thought 'that's really good, what is that?'"

"I had met Levon when I was working in a stereo store while I was in high school, I hung out with his brother, Wheeler, and I brought some equipment over to Levon's house, and I showed him my Telecaster (guitar)," he added. "Levon then moved out to California, and the Band got really big, of course.

"We, Randy and I, played some shows with Levon's All-Stars, after he returned to Woodstock (after the Band originally broke up following "The Last Waltz"), and eventually the Band was going to get back together," Weider said, "At one point, it was me and Rick playing together, then me, Rick and Richard. Then, they were going to go out on the road, as the Band, opening for Crosby, Stills & Nash. They were playing a local bar in town, and they invited me to come down. I sat in and played that night, and about a week and half later, they called and said 'come play with us.'"

Weider and Ciarlante's work with the Band gives both of them insightful perspectives on the group's core members, as well as meaningful recollections of the untimely deaths of Richard Manuel, who hung himself in a Florida hotel room in 1986 (Ciarlante joined the group shortly thereafter), and Danko, who died of a heart attack in his sleep, in late 1999.

"Richard had just started drinking again, and he had a dark side that his drinking unfortunately brought out," Weider said. "He was a pretty wild character, he liked to get lit, right out there on the edge, and it certainly did not help him, as an artist. It was incredibly devastating, and a terrible way to go. It was a horrible thing to see."

"Rick's passing didn't really surprise anyone, either," Ciarlante added."We had played some gigs with him a week or two before that, and he was having a really difficult time, he had to sit in a chair to play, he was running out of breath, he was in rough shape. He had done well for a while..but..."

"It's just the way their (Richard and Rick's) lifestyle was," Weider said."They just couldn't change."

Yet, despite those dark days, both Weider and Ciarlante stressed that theirs was a different lifestyle in the group.

"As 'junior' members in the Band, we just couldn't get as happy-go-lucky as those guys could," Ciarlante said. "We had to hold up the fort."

"If you can't give your best, you probably shouldn't be playing," Weider said. "That's always been our attitude."

Yet, both Weider and Ciarlante praise both the musical and personal contributions of all four Band members.

"Richard and Rick were best friends, and you could see why," Weider recalled. "They were both such nice guys. They were both happy-crazy on the outside. I think Rick was a big part of the spirit of the Band, always getting everyone together and getting them going. But, it was all on the outside; he had his demons, too.

"Richard was a very polite, humble fellow," said Ciarlante. "He had beautiful ideas, and that beautiful voice. Rick brought an off-center, eclectic vibe to the Band, his vocal work was really unique. He taught us both a lot about singing. And, Rick used to tell us that the stage was the only place he felt safe."

"Levon has such a deep musical knowledge," Weider said. "He was really the leader of the Band. He's a small guy, physically, but what a presence."

"Levon was the boss," Ciarlante agreed. "The other two (Rick and Garth) would always say 'if Levon wants to do it, then we'll do it.' He has that charisma."

"Levon's doing just great, he's cancer free (Helm had cancerous nodules removed from his throat a few years ago) has a lot of energy and is playing very, very strongly," Ciarlante, the fellow drummer, said. "He's actually playing better than I've seen him play in years. He's in really top form."

"Garth is a trip, he gave such an aura to the Band," Weider said, about the keyboard virtuoso Hudson. "He takes one day at a time.

"Garth would take the basic structure of what the Band was doing, and dress it up a bit," Ciarlante added. "He could orchestrate it, arrange it, in a more sophisticated way, in a way that, at least, Robbie Robertson wanted to take it. Plus, he plays such great stuff."

That new Band lineup lasted over a decade, and produced three albums, "Jericho," "High on the Hog," and "Jubilation." Yet, both Weider and Ciarlante agree that only "Jericho," the first of the three, was truly a Band album.

"I hated 'Jubilation,'" Weider said."I thought the songs sucked. The whole concept just didn't work. I mean, the Band was over by then. Levon's voice was shot, the production was the worst. 'High on the Hog' was the same, the production wasn't there, and the songs weren't picked right.

"After 'Jericho,' I thought, 'hey, we've got a really good record here,' we'd really had a chance to make a record as the Band." Weider said. "The songs were good, but then, that was it."

"It ('Hog') got away from the rocking thing," Ciarlante added. "The songs (on 'Hog') were hideous. There was no input from the senior guys then, they were all working on individual projects. It was like, well, we just weren't sitting in the 'Big Pink' house, going over it all, like the original Band did in the early days. 'Jericho' was like that, like the old days for them, it was more crafted."

The loss of Danko, in late 1999, spelled the official end of the Band. Since that time, Weider and Ciarlante have concentrated on a number of projects, culminating in the recording of "Big Foot," a mostly instrumental album released two years ago, and the new record, "Remedy," a rollicking rock and roll ride that, Weider says, ranks right up there with both men's work with the Band (both records are available from Weider's web site, www.jimweider.com).

"'Remedy,' really, is more of a Band-sounding album," he said. "It sounds more like us, that is what it sounds like if you come see us play live," he said. "It's more cohesively written, it sounds the way it should. 'Big Foot' was done over a span of years, between tours, and this one has a weave through it, pulling it all together."

And, both men agree, the future lies with the Jim Weider Band, not the Band.

"Those guys (Levon and Garth) have evolved into a different musical thing now," Ciarlante said. "They are really not collaborating with their music any more. Garth is doing what he wants to do, and Levon is doing his thing."

"And," Weider interjects,"we are doing what we want to do. We're excited about this new record, 'Remedy,' and how we perform live. The Band's the past. This is where we are now."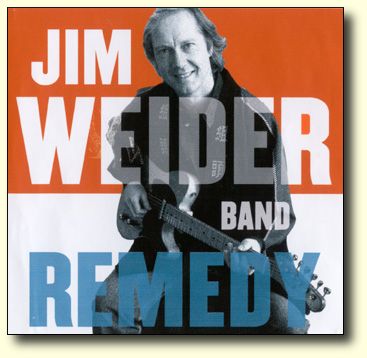 ---
[History] [Members] [Library] [Discography] [Videography] [Filmography] [Pictures] [Audio Files] [Video Clips] [Tape Archive] [Concerts] [Related Artists] [Merchandise] [Guestbook] [Chat Room] [Search] [What's New?] [Main Page]
Webmaster