Live On Breeze Hill
The Rick Danko Band
---
Copyright © 1999, Peter Viney.
---
The Rick Danko Band: Live on Breeze Hill, 1999, Woodstock Records

Rick Danko - vocals, acoustic guitar, bass / Garth Hudson - keyboards, accordion, soprano sax, tenor sax / Aaron "Louie" Hurwitz - vocals, piano, accordion, Hammond organ, plus:
Randy Ciarlante - drums, vocals / Jim Weider - electric guitar / Roger Mason - electric bass, acoustic bass / Tom "Bones" Malone - trombone, baritone sax / Lenny Pickett - tenor sax, clarinet / Jim Hynes - trumpet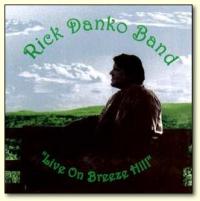 This is a diary release, and as such an excellent idea. A few other mature artists have pioneered diary releases whereby they put out frequent low-key live albums on small labels, satisfying the fans' interest and getting some money that might otherwise have gone to bootleggers. Diary releases are simply this year's show. You don't expect new stuff. This is not "The new Rick Danko album" and should not be judged as such. It inevitably shares quite a few tracks, too many really, with In Concert (Crazy Mama, Twilight, Chest Fever, The Shape I'm In, It Makes No Difference), but there is a full backing band this time round, and sound quality is far better. The addition of the horn section lifts this above the level of an ordinary concert, and the album includes some excellent takes on well-known material. If it didn't include these well-known tracks, the people at the actual concert would have been extremely disappointed. If any of those criticizing the selection of songs had seen this on sale as a bootleg they'd have snapped it up and been well pleased. Also, the horn section have played with the Band and knew the arrangements. So, no problems with the track selection given the diary status of the album.
The credits print RICK DANKO, GARTH HUDSON & AARON HURWITZ in capitals, and everyone else in lower case, which suggests that these three are the "Rick Danko Band" and the others including Randy Ciarlante and Jim Weider, sidemen. The credits are slightly unfair in another way. While the lighting guy at the concert and the legal advisor get credits, not that we can hear their work, none of the songwriters do, which means that Robbie Robertson's name fails to get printed seven times. Just as it did five times on Rick Danko In Concert and five times on The Band: Live at the New Orleans Jazz Festival. And his song Caledonia Mission gets its title spelt wrongly yet again ("Caldonia" Mission). This happens so often that you wonder if it's careless, or whether they always intended that to be the title. I think the writing contributions of J.J. Cale (Crazy Mama), Larry Keith & Danny Morrison (Blaze of Glory) and whoever wrote The Next Time You See Me (Was it Doug Sahm?), also exceed the creative input of the credited equipment rental company.
The same irritating card sleeve that Robertson used for Contact From the Underworld is utilised. It's a shame because it's a fine cover. You have to handle the CD surface with greasy fingers to get it out of the pack, and these packs invariably split with repeated use (and this one will certainly get repeated use from me). The circle of adhesive tape holding it together lifted the cover picture, in spite of great care on my part. You can use card digipacks which have a proper CD holder, as on many jazz releases. The ecological effect of using "soy based inks" as claimed in printing the sleeve is dubious. Soy farming is one of the greatest ecological threats we face. Genetically modified soy is in everything, and mineral inks seem a mild abuse of the planet in comparison.
SIP THE WINE (Rick Danko) - Studio bonus track
with Scott Petito - bass / Dean Sharp - drums / Marie Spinosa - vocals / Leslie Ritter - vocals / Beth Reinecke - vocals
Sip The Wine is a Rick Danko composition from his 1978 solo album. In 1978, with an excellent album that sounded far more like The Band than anything Levon or Robbie were to attempt, Rick Danko seemed the most likely Band member to have a glorious solo career. Listen back to the album, and the line from The Band is unbroken. Good songs, many co-written by Danko, good treatments. Maybe that little thing called luck just wasn't around. Doug Sahm played the guitar solo on the original 1978 version, which links with Next Time You See Me.
Last year there was some debate on the website about this song, with some claiming that Sip The Wine is allegedly identical to a Tracy Nelson 1972 song, I Want To Lay Down Beside You recorded on Mother Earth, with composer's credit to Tim Drummond, who plays bass on other tracks on Danko's 1978 album. I haven't heard this version, but as they were working together then and have since it wouldn't seem that acrimony is involved.
Sip The Wine was always a favourite of mine from the 1978 album, and the idea of a studio revisit is a good one. This is a slow, gentle rendition, and Danko has a nasal quality to his voice. It's not as anthemic as the original. Special mention for the backing vocals. Because of the Band and Danko, Fjeld, Anderson's blends of male voices, it's unusual to hear Danko's voice contrasted to female voices. The drums are a little too busy as the song develops, especially when you're used to the economy of Levon and Randy.
TWILIGHT (J.R. Robertson)
Twilight first appeared as the only new track on Best of The Band and then as a single. It's a Northern Lights out-take which was obscure for years. Rick Danko revived the song as a solo number, giving it a radical re-interpretation. It's been a solid live solo number for him, with occasional Band performances of the Danko arrangement. He recorded a fine version with Garth Hudson on The Best of Mountain Stage Volume 1 in 1991 (released in 1993). Rick and Garth completely reworked the old and obscure single, and their gentle laid-back version improved on the original. This is the treatment it received subsequently, appearing again on Danko, Fjeld, Anderson's second album, Ridin' on the Blinds (with Garth Hudson guesting) and on Rick Danko In Concert.
Shawn Colvin sang it on Cover Girl saying:
Shawn Colvin
I know a lot of songs by The Band and I decided on this one after a live version of Acadian Driftwood had to be scrapped due to such excessive enthusiasm on my part that as, Stewart Smith would say, it sounds like I took out about 40 foot of guard rail. I only really became aware of this song after hearing Rick Danko do it. I was sure it was an old Civil War song. I don't even touch his rendition, but there you go.
The version here is as good as the 1991 one. Special mentions for Jim Weider's stunning, restrained guitar work and Garth's accordion.
CRAZY MAMA (J.J. Cale)
The J.J. Cale original version was a single (US #22, March 1972) and on the album Naturally 1972.
I've always been highly critical of the inevitable inclusion of this less-than-interesting song on so many Danko and Band shows and recordings ( Live At New Orleans Jazz Festival, High on The Hog, Rick Danko in Concert, Westwood One 1996 radio show). Danko's been doing this since at least 1979 when he featured it with Paul Butterfield. But here's the good news, this is the best version yet, which is a strange statement for me because it's the longest, and I've always complained that it's too long. The simplicity of the song gives Jim Weider in particular plenty of room to stretch out and the horn section is the cream on the cake. It's a groove that invites band members to soar off, so is more successful with a bigger line-up. It may well be that Rick Danko uses this on stage for a personal warm up, much in the same way that Van Morrison used Help Me for many years. It's not a great song but it may establish a mood for Danko.
STAGE FRIGHT (J.R. Robertson)
I'm not fond of recent versions of Stage Fright. This one is instrumentally excellent and has great sound, but I don't like the way Rick sings around the familiar lyric, stretching words, singing laconically. I'm sure this is a conscious acting device, and I can see how he's trying to re-interpret the song thirty years on, but I love the urgency and anguish of the original too much. However, none of us can be thirty years younger than we are, and so I guess the song now needs a different angle. Anyway, he's thinking about how he's doing it, and the song's been this way for quite a while. It shows how well this set is recorded compared to circulating concert tapes too.
OPHELIA (J.R. Robertson)
Ophelia has always been a Levon number with the Band. But Rick has the ability to do both Richard and Levon material. Actually this version does make me miss Levon's raunchy cackle, it's so much lighter. I suspect it's there because they had the horn section and this exhibits the horn section at its best. Glorious horn work.
BLAZE OF GLORY (Larry Keith & Danny Morrison)
This appeared on both 1980s Band videos, The Band is Back and Japan Tour. Rick Danko recut it on Danko, Fjeld, Anderson. The song first appeared on a Lionel Richie produced Kenny Rogers album Share Your Love in 1981 (US #3 album) and the single charted. It's a fun version which has appeared on many Danko shows, sharing its treatment with a similar arrangement of Rivers of Babylon. There's a memorable Danko, Hudson, Manuel tape from 1985 when Jaco Pastorious joins them for a lengthy version. On Breeze Hill, the horns have a great time with the accordion, lengthening the song considerably. It's full of atmosphere.
NEXT TIME YOU SEE ME (Doug Sahm?)
I'm not certain of the origin of this, and haven't heard other versions which I assume to be the same song. If so, Doug Sahm cut it three times between 1977 and 1987, Arthur Prysock cut in 1985 and Clarence Gatemouth Brown featured it on his 1986 Real Life album. It also features on a January 1985 Levon Helm & The Woodstock All Stars show from the Lone Star Café.
Aaron Hurwitz sings this version. The song itself is a pretty nondescript R&B workout, but with this line-up you're assured of a great version.
CALDONIA (sic) MISSION (J.R. Robertson)
This is another song that Danko has revived from the Band back catalogue. They featured it live between 1994 and 1996, with Randy Ciarlante moving to bass (but not here). Looking back at early Band set lists, it doesn't seem to have been performed while Music From Big Pink was freshly minted, until the version on Rock of Ages, after which it disappeared from the Band set again. Danko did it solo on at least two tapes from 1984 to 1985. It got great applause live in 94 to 96. It appeared on the Westwood One 1996 radio show by the Band.
The sound quality takes a slight drop, possibly because it all sounds a little unsure at the beginning. As with Stage Fright Rick is singing slightly around the expected rhythm of the words. Maybe they hit it just a tad too slow. For once, Rick's rhythm guitar is pretty prominent in the mix.
SHAPE I'M IN (J.R. Robertson)
Richard and Rick could interweave their voices to such an extent that there has been heated discussion on the website about who sang which line on some songs, and even which song on Moondog Matinee. They were the two singers with the widest range, and the two Canadian accents contrasted with Levon's Arkansas accent made them seem even more similar. The Shape I'm In was originally a Richard lead vocal, that Rick has been singing for so long that you never think about the switch. He tends to perform The Weight when he does it as an audience singalong somewhat desultorily. But he always performs The Shape I'm In, and as It Makes No Difference is a solo showpiece, Shape is the most characteristic Band song in his sets.
This starts off as less rocking and quieter than normal, but the backing vocals from Randy and Aaron are well placed. This is again a less urgent approach to the song. There's a wonderful combination of Jim Weider and Garth Hudson in the solo, and the horns are kept back till near the end.
There are recent live versions on The Band: Live at the New Orleans Jazz Festival, Rick Danko In Concert, The Deadheads Festival, Japan 1997 (Rick Danko) and the Westwood One Radio Show.
CHEST FEVER (J.R. Robertson)
If Garth's there, it's an essential, and the most eagerly awaited one at that, just to hear the current version of the intro. It's never disappointing. At one point the opening chords are suggested, but it's a trick leading into a frothy churning run that quotes Duke Ellington's Caravan briefly.
The horns as the song comes in provide the necessary lift. As on Band gigs, Randy Ciarlante takes the main vocal. Great middle section (It's long, long since she's gone …). The keyboard solo is enhanced by having the horns blasting out the riff. All round, an excellent version.
IT MAKES NO DIFFERENCE (J.R. Robertson)
This is always Rick's showstopper, greatly enhanced whenever Garth's beside him. No Danko concert would be complete without it, and though the vocal's always magnificent, Jim Weider's guitar is a major plus on this take. He deserves praise for being on first class form throughout the show. The horns add a novel edge - I love the bit behind These old love letters ….
See The Shape I'm In for recent versions. It's on all the same albums (though it's called The Sun Don't Shine Anymore on the New Orleans laser / DVD.)
OUTRO
Namecheck. Hardly worth a separate track.
Conclusion? It's a live 1998 show with excellent sound. Danko's assembled as good a facsimile of The Band as is possible in the absence of Levon, and the horn section fills out the sound admirably. Roger Mason performs well on bass, but I'd still like to have heard more of Rick on bass instead of acoustic guitar. But I say that every time.
I'm delighted to have it, and hope for a 1999 instalment of the diary. Then a 2000 one and so on. An original album would be good to have too, but that's a different line of development.
---
[History] [Members] [Library] [Discography] [Videography] [Filmography] [Pictures] [Audio Files] [Video Clips] [Tape Archive] [Concerts] [Related Artists] [Merchandise] [Guestbook] [Chat Room] [Search] [What's New?] [Main Page]
Webmaster